That time of year is here: Destify's top wedding packages for 2023 under $10,000.
You've got your sights set on the sunny shores of an all-inclusive resort, but money is a concern. A destination wedding can't be cheap, can it?
If your budget's ceiling is $10,000, get ready for your destination wedding dreams to go sky-high!
Not only are destination weddings more affordable than local weddings, but we've also compiled a list of 10 fantastic destination wedding packages under $10,000.
We've sent thousands of destination wedding couples to tropical paradises like Mexico, Jamaica, the Dominican Republic, and the Caribbean Islands. We have the insight, expertise, and passion to ensure that any budget constraints you have won't hinder the magnificence and luxury of your wedding day!
Read on and get ready to save!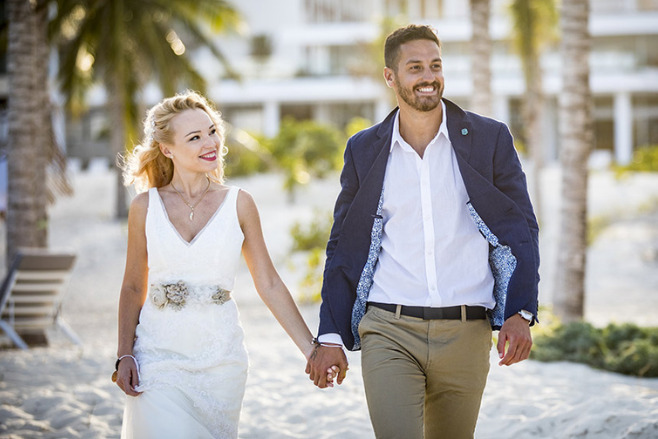 Majestic Elegance Costa Mujeres is one of our favorite and most popular resorts, both for us at Destify and for our guests!
It's a large, budget-friendly property that gets you a lot of bang for your buck.
Large wedding groups with multi-generational guests fit in perfectly here. With both family-friendly and adults-only sides to the resort, as well as 12 separate pools and nightly entertainment, everyone from Grandchild to Grandparent will be happy at this Playa Mujeres, Mexico all-inclusive resort.
Playa Mujeres Weddings

Situated on the prosperous Playa Mujeres coast, this resort guarantees pure destination wedding serenity, far from the reaches of the Cancun Hotel Zone. Boasts both elevated venue architecture and day-of technology.

Majestic Elegance Costa Mujeres:

Read more

Venues: 3
Family Friendly
40 Minutes

Package Costs:

$

1,250

–

$

1,750

Resort Features:

24/7 room service
12 Pool
7 Bars
15 Restaurants
Adults Only Area
Aromatherapy room service.
Spectacular Spa with humid area + treatment center.
Butler service (available for specific room categories)

'Free Wedding' Wedding Package 2023 Price: FREE to $1,750+

The best package offered at Majestic Elegance Costa Mujeres is its only package.

With no deposit fee and no additional cost per extra guest, this package is an excellent option for those on a tight budget with a large wedding group.

However, this package is only available for a maximum of 60 guests.

And for those with a little extra wiggle room in their budget beyond the $1,750? Your onsite wedding planner can assist you in adding any additional a la carte flourishes and customizations to your ceremony!

And we know that you noticed that 'Free' bit, didn't you?

The package becomes complimentary when you and your wedding party book 15 or more rooms for 7 nights.

'Free' is definitely a wedding package under $10,000!

Guests: 20 (Maximum 60)

Extra Guest Fee: $0

Wedding Package Inclusions:

Onsite wedding planners
Several ceremony locations
Room upgrade for the Bride & Groom
Early check-in & late checkout for the Bride and Groom
Special bracelet for the Bride and Groom with exclusive access to all 3 resorts
Services of a Civil Judge
Beautiful wedding cake
1 tropical flower table arrangement
Tropical bouquet for the Bride and boutonniere for the Groom
Ironing of Groom's tuxedo and Bride's gown
Sound system and simultaneous translation of the ceremony if needed
Marriage certificate in Spanish delivered by DHL
Champagne for the group after the ceremony
Romantic candlelight dinner with champagne for the couple
Romantic breakfast in your suite
Complimentary massage for the couple and use of water circuit
Basket of fruit in your room during your stay
Bottle of champagne in the room, twice during your stay
Room service included for the couple

Not sure what a free wedding package is? Learn more here!

Wedding Date Availability Majestic Elegance Costa Mujeres

keyboard_arrow_leftPrevious

Nextkeyboard_arrow_right

Montego Bay Weddings

Iberostar Rose Hall Beach is surrounded by beautiful gardens and the gorgeous waters of the Caribbean Sea. No matter where you want to hold your ceremony, your Iberostar Rose Hall wedding promises to be magical.

Iberostar Rose Hall Beach:

Read more

Venues: 5
Family Friendly
25 Minutes

Package Costs:

$

1,929

–

$

7,999

Iberostar Rose Hall is a resort built in tandem with the surrounding wilderness and waterfront. This fusion extends to its unique colonial-meets-contemporary design scheme!

There are coral nurseries, waterfalls, lush jungles and gardens, and of course, pristine beaches.

With its eco-friendly practices, such as eliminating single-use plastics and aiming to be carbon-neutral by 2030, Iberostar Rose Hall Beach honors the natural world it's built around.

Couples who want their destination wedding in a locale incorporating Montego Bay's raw, lush beauty should look no further.

Resort Features:

24/7 room service
5 Bars
4 Restaurants
1 Pool
Expansive spa with salon, hydrotherapy pool, juice bar, and Pilates studio.
Massive infinity-edge pool with ocean views and swim-up bar.
Lots of free activities throughout the day.
Single-use plastic-free hotel
Coral nursery
Dressel Diver Center

'Gold Star Wedding' Wedding Package 2023 Price: $2,899+

Iberostar Rose Hall's highest-price wedding package comes with its most abundant inclusions.

Couples booking this package will look forward to a 45-minute live music session, a 30-minute couple's massage, and much more.

And if 'Gold' seems like a little more than you need for a wedding package under $10,000? There's the cheaper 'Silver' package, priced at $1,999.

Guests: 20

Extra Guest Fee: $35

Wedding Package Inclusions:

Professional services of an onsite wedding specialist
Bride's fresh floral bouquet and matching groom's boutonnière
Minister (symbolic ceremonies)
Witnesses (if required)
Setup of wedding venue (canopy, chairs and table with white linen)
Sparkling wine served after the ceremony
Fresh floral centerpiece for the head wedding table during the ceremony
Recorded music and microphone provided for the ceremony
Live music (45 minutes)
Cocktails with cold appetizers for an hour, at ceremony venue
Traditional white frosting cake decorated with fresh flowers
Wedding dinner in a specialty restaurant (one hour and a half)
Iberostar gift 10% discount on spa services for wedding guests (boutique purchases excluded)
Upgrade to the next category of room for the bride and groom (subject to availability, Presidential Suite is excluded from upgrades)
Late check out for bride and groom (subject to availability)
Hair trial and hairstyle for the bride
30-minute couple's massage
Romantic dinner for the wedding couple

Wedding Date Availability Iberostar Rose Hall

keyboard_arrow_leftPrevious

Nextkeyboard_arrow_right

Punta Cana Weddings

Secrets Royal Beach is situated on over 700 yards of pristine beach in Playa Bavaro, where the sand often draws comparisons to pure sugar.

Secrets Royal Beach:

Read more

Venues: 6
Adults-Only
25 Minutes

Package Costs:

$

999

–

$

3,799

This adults-only Dominican Republic resort is built atop 700 yards of gorgeous white sand. The beachfront is so white and shimmering that it draws comparisons to pure sugar!

Secrets Royal Beach is an expansive, sumptuous property that fuses luxurious extras with romantic vibes.

With Caribbean decor, swathes of vibrant color, and manicured gardens throughout the resort, it's no secret that you and your guests will be captivated.

Secrets Royal Beach offers day and nighttime entertainment like live musical performances, theme nights, beach parties, and much more.

Resort Features:

24/7 room service
14 Bars
4 Restaurants
4 Pools
Beach has soft, white sand and warm water (but some seaweed debris).
All rooms have romantic balconies or terraces with Jacuzzis.
Massive pool features a lively swim-up bar and a lazy river..
Extensive dining options: 4 onsite restaurants, access to the restaurants at the Now next door, and 24-hour room service.
Tranquil spa with numerous treatment rooms and a sexy pool.
Casino

'Secrets Ultimate' Wedding Package 2023 Price: $3,799+

Secrets Royal Beach's highest-priced and most luxurious wedding package provides amenities like a private cocktail hour with hors d'oeuvres and a reception. And at $3,799, it's absolutely a wedding package under $10,000!

With an additional $100 per extra guest, this package is ideal for mid-sized wedding groups looking to experience the high life during their Dominican Republic stay!

Guests: 30

Extra Guest Fee: $100

Wedding Package Inclusions:

Service of judge or minister
Semi-private rehearsal dinner for ten max
Wedding organization and personal touch of onsite wedding coordinator
Preparation and ironing of couple's wedding day attire
Complimentary room for one member of the wedding couple the night before the wedding (based on availability and upon request)
Bouquet(s) and/or boutonniere(s) for wedding couple
Two boutonnieres and two corsages for wedding party
Sound system with speaker and microphones
Hairstyling and makeup application for one member of the wedding couple on the day of ceremony
Ceremony décor (30 chairs with white covers, ceremonial table and aisle runner)
Wedding cake and sparkling wine (up to 30 guests)
Private cocktail hour with hors d'oeuvres (Gold menu, up to 30 guests)
Private dinner reception (Gold menu, up to 30 guests)
One natural floral centerpiece for the sweetheart table
One natural floral centerpiece for ceremonial table
Live Mexican music trio (one set, during cocktail hour)
Special turndown service night of the wedding
15% discount on all spa treatments (Spa boutique purchases not included)
Newlywed Package
Late checkout for the couple (based on availability and upon request)
50 full color photos and wedding album
Video of ceremony (30 minutes)
Choice of one couples spa treatment
Free anniversary nights

Wedding Date Availability Secrets Royal Beach

keyboard_arrow_leftPrevious

Nextkeyboard_arrow_right

Venues: 4
Family Friendly
35 Minutes

Package Costs:

$

999

–

$

3,799

This brand-new pristine property was built in 2020. It's a great fit for soon-to-be-married couples who value a highly contemporary, highly active, all-inclusive resort!

Dreams Macao Beach offers a variety of facilities and activities for guests of all ages, like a water park, lazy river, tennis court, snorkeling, kayaking, ziplining, and so much more.

Guests with children have their own area in the Family Villas section, which includes a kid's area, water slides, and much more.

Resort Features:

24/7 room service
7 Bars
7 Restaurants
4 Pools
Fitness center
Pool and beach wait service
Theme parties, oceanfront bars and entertainment venues.

'Dreams Ultimate' Wedding Package 2023 Price: $3,899+ (Mon-Wed) $4,199+(Thu-Sun)

This highly affordable package is great for both smaller ceremonies and larger wedding parties. It's got a little something to offer everyone!

Dreams Macao offers even cheaper packages priced at $999 and $3,399.  However, this price point is well worth the additional unique amenities, like photo and video services, and is one of our favorite wedding packages under $10,000!

'Dreams Ultimate' also includes the Newlywed Package, which indulges the newlyweds with perks like breakfast in bed with mimosas, a bottle of sparkling wine, and much more!

Guests: 20

Extra Guest Fee: $90

Wedding Package Inclusions:

Service of judge or minister
Semi-private rehearsal dinner for ten max
Wedding organization and personal touch of onsite wedding coordinator
Preparation and ironing of couple's wedding day attire
Complimentary room for one member of the wedding couple the night before the wedding (based on availability and upon request)
Bouquet(s) and/or boutonniere(s) for wedding couple
Two boutonnieres and two corsages for wedding party
Sound system with speaker and microphones
Hairstyling and makeup application for one member of the wedding couple for day of ceremony
Ceremony décor (30 chairs with white covers, ceremonial table and aisle runner)
Wedding cake and sparkling wine (up to 30 guests)
Private cocktail hour with hors d'oeuvres (Gold menu, up to 30 guests)
Private dinner reception (Gold menu, up to 30 guests)
One natural floral centerpiece for the sweetheart table
One natural floral centerpiece for ceremonial table
Live Mexican music trio (one set, during cocktail hour)
Special turndown service night of the wedding
15% discount on all spa treatments (Spa boutique purchases not included)
Newlywed Package
Welcome letter
Fresh fruit
Bottle of sparkling wine
Breakfast in bed with mimosas (reservations must be made in advance with concierge)
Late checkout for the couple (based on availability and upon request)
50 full color photos and wedding album
Video of ceremony (30 minutes)
Choice of one couples spa treatment (options to be provided by resort)
Free anniversary nights

Wedding Date Availability Dreams Macao

keyboard_arrow_leftPrevious

Nextkeyboard_arrow_right

Antigua Weddings

There's a reason why this island gem is our marquee Antigua property, featuring luxurious overwater bungalows and visually-stunning Tamarind Bay wedding venues!

Royalton Antigua:

Read more

Venues: 4
Family Friendly