It's not easy to find the right destination wedding flower bouquets for you and your bridesmaids! Since beach weddings are more informal than conventional weddings, you can have a lot more fun with your bouquet. We've put together a gallery of bouquets to help you get inspired and your creative juices flowing! Think bright colors, tropical blooms, and beach accents. The possibilities are endless!
Peony Wedding Bouquet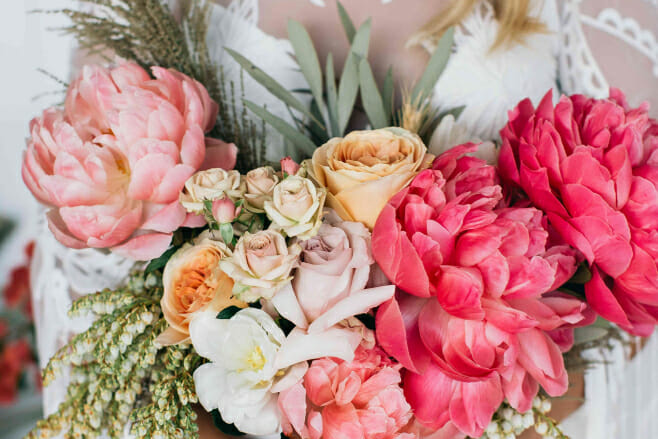 The peony is an elegant Eastern beauty with origins spanning the Mediterranean and Asia. Peonies are ideal for an early summer beach wedding since their peak season is in May. However, if you want to tie the knot in the winter or fall, the garden rose is a modern frilly alternative.
Hydrangea Wedding Bouquet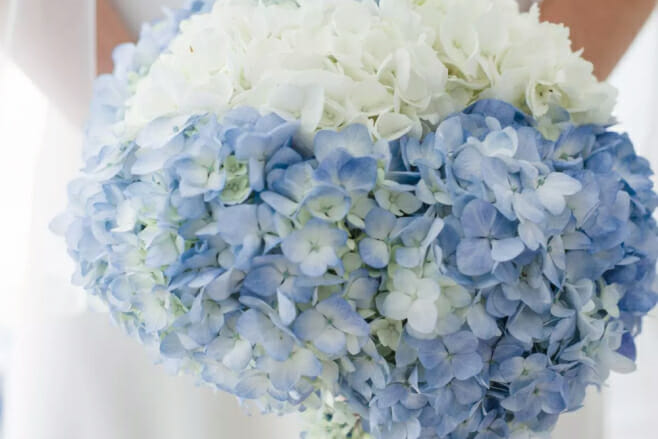 These prized blooms are available from early spring to late autumn and make the ideal beach wedding bouquet flower. The hydrangea will make a splash in every shoreside ceremony, with hues ranging from sea foam green to cerulean blue.
Dahlia Wedding Bouquet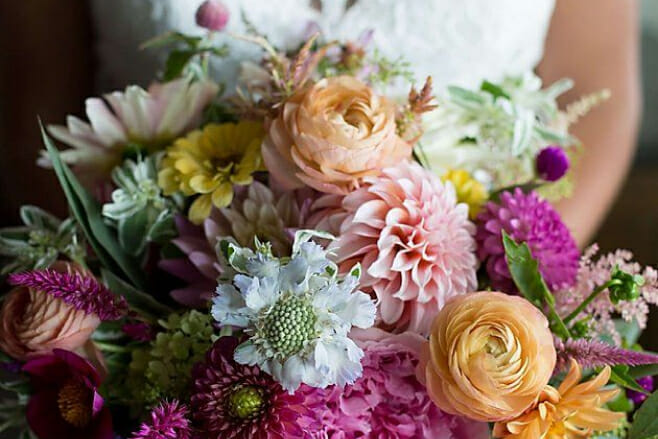 Pom-pom, pincushion, and starlike blooms are all available amongst this exciting wedding flower. The dahlia, which blooms from late summer to autumn, comes in a variety of colors ranging from eggshell to chocolate. Due to its flexible color palette, dahlias add an enchanting touch of Fall to any bridal bouquet. October is one of the busiest seasons for destination weddings and perhaps these are the perfect bouquets to compliment them.
Fern-Accented Bouquet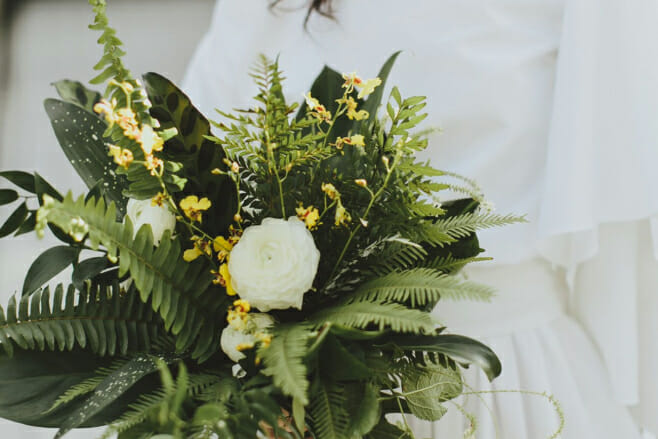 We don't keep it against ferns because they don't technically grow flowers, in fact that's why we celebrate them. Add a touch of jungle-inspired nature; whether Lady Fern, Asparagus Fern, Royal Fern, or Bird's Nest Fern. These plants, when combined with palms of any sort, will be just the right amount of tropical to keep things festive.
Perfect Proteas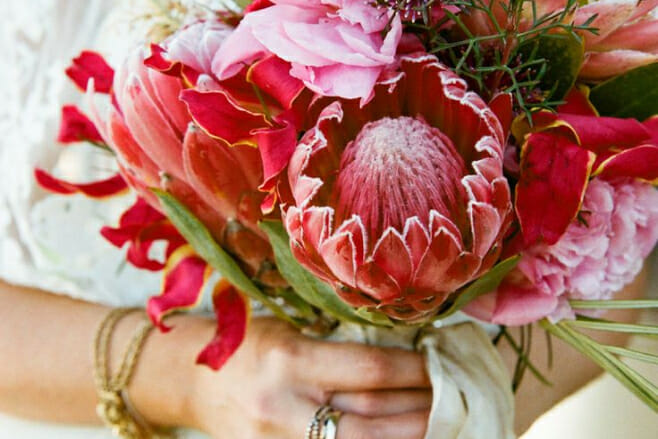 Protea bridal flowers add an enticing degree of romance to a bouquet design by being exotic and unexpected. Their domed, fluffy centers contrast sharply with their spike-shaped petals, causing you to look twice. Keep it easy with a single King Protea (also known as Sugarbush). This larger bloom goes perfect with garden roses for a more romantic look.
Destination Flora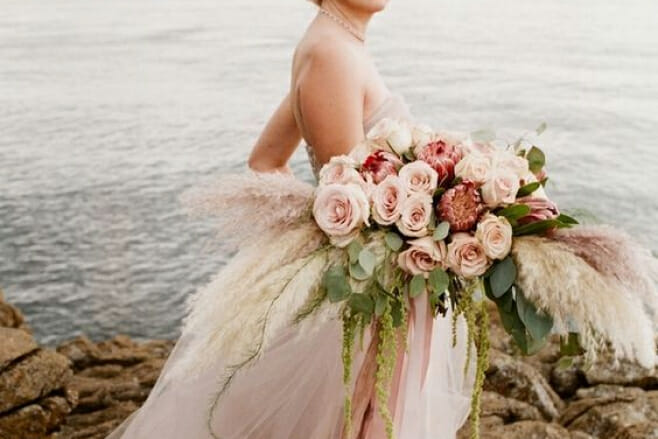 Are you planning a tropical resort wedding? Take advantage of the opportunity to view flowers native to the region as a show of beauty and a nod to your chosen spot. Your wedding coordinator can assist you with local vendors, taking inspiration from your regional surroundings.
Classic Rose Bouquet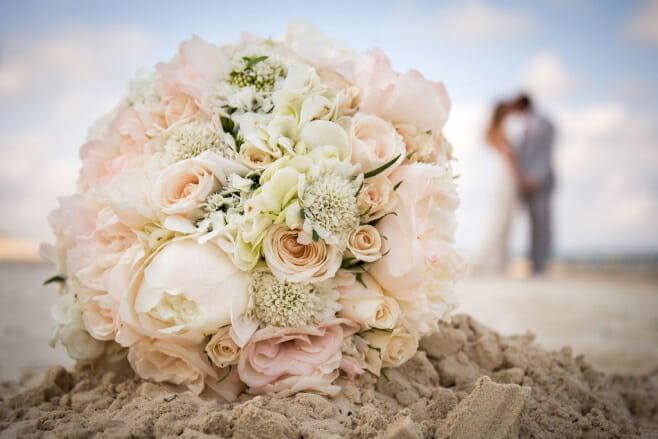 Roses are the flower of choice for every wedding theme. Roses are often a tried and true choice. They come in every color imaginable and can be the center of attention or blend seamlessly into the background. Try using hues that echo the colors of the Mexico sunset while adding roses into a destination wedding flower bundle. From bright reds to oranges, and flecks of gold, they'll stand out against the calm of white sand and blue ocean water.
Anthurium Wedding Bouquet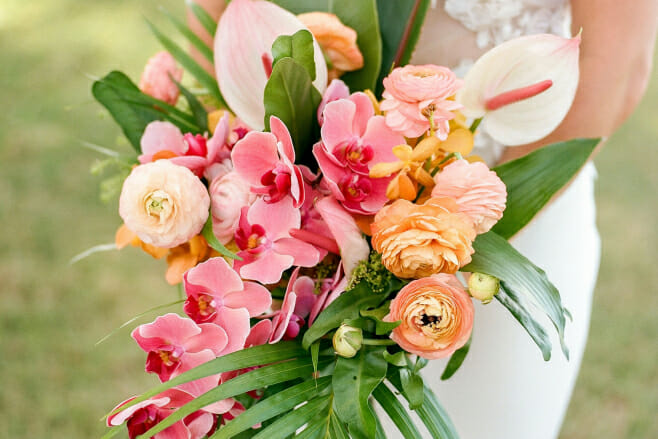 The anthurium's waxy, leaf-like blooms make it a sturdy option against saltwater, sand, and other natural elements that can weigh down your floral arrangements. These flowers have a distinct flair that embodies the airy, ethereal nature of a beach wedding, despite their rarity. When paired with other greenery or bursts of color, they can be used in wedding party bouquets and table decorations.
Orchid Wedding Bouquet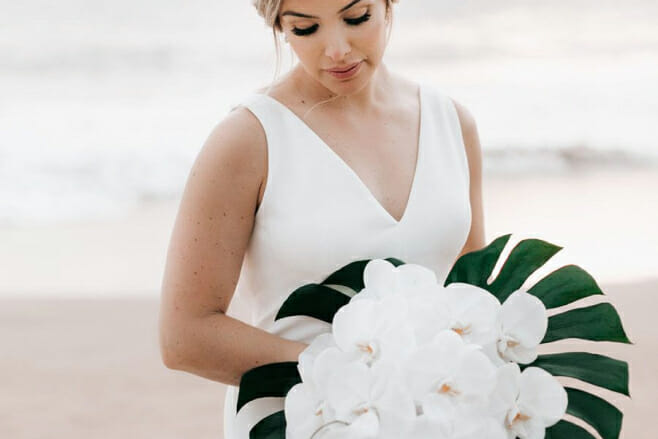 Orchids are notorious for being finicky flowers, but all they need to survive is a lot of water. Their lovely petals and vibrant colors make them a perfect destination wedding flower. Keep them submerged in water before it's time to bring them down the aisle, and they'll last the entire ceremony.
Want to learn more about how to make your destination wedding planning perfect? Follow the button below to view our How to Plan a Destination Wedding guide: