Your dream luxury destination wedding might seem just that — a dream, a wholly unrealistic fantasy, and above all, expensive.
Oh, we've got good news for you!
We've planned and sent thousands of clients to Jamaica and other tropical paradises like Mexico and the Dominican Republic. We have the knowledge, insight, and passion for bringing to life that daydream-wedding day you've always dreamed about!
So we're here to tell you this: not only are destination weddings more affordable than local, US-based ceremonies, but we've also compiled a list of some of the cheapest wedding packages found in Jamaica!
These packages put the 'friendly' in 'budget-friendly,' so let's get to know them better!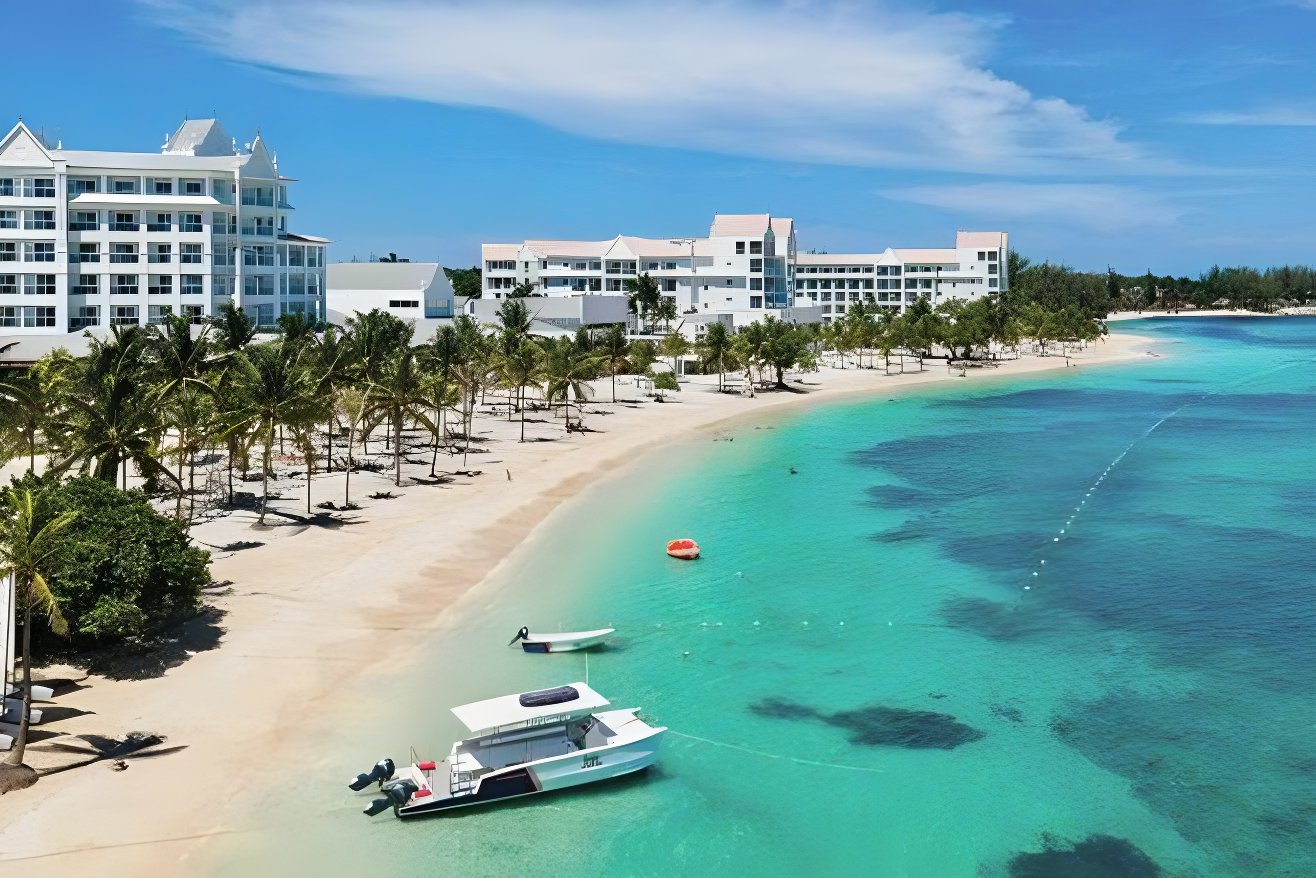 There's just no other way to say it — we at Destify love Riu.❤️
Riu offers various locations and gorgeous all-inclusive resorts, focusing on flexible price points that fit budgets of all sorts.
'Rios' translates to 'river,' and that's absolutely appropriate for Riu Ocho Rios; the extravagance is simply overflowing!
The aquatic splendor is the name of the game here. Riu Ocho Rios is home to 5 pools with swim-up bars, a private, reserved beach area, and an onsite water park, 'Splash Water World.'
And don't forget about the rivers and waterfalls surrounding the resort in the greater Jamaican landscape, like Dunn's River Falls. These famous cascading tides empty into the Caribbean Sea and have become a must-stop tourist stop!
But we've saved the best for last: Riu Ocho Rios' 'Free Wedding Package.'
Now 'Free' might sound too good to be true, no?
Yes and no.
All a bride-to-be has to do is book a room, and they become eligible for this Free Package! This package includes 10 guests, with an additional $15 fee for every extra guest beyond that.
There are also taxes and fees to keep in mind, so it's a partially free package.
However, we're highlighting this package because it's an excellent choice for small, intimate ceremonies or as a starting point.
With the help of your resort wedding planner, you can add many additions and add-ons to this affordable package to customize it to your exact wants and needs!
'Free Wedding' Package 2023 Price: $0+
Wedding Package Inclusions:
Standard setup, recorded music and bouquet with matching boutonniere.
Semi-private dinner at one of our restaurants
Wedding cake and sparkling wine toast
Romantic room decoration on wedding night
10% discount for the couple in all spa treatments and spa gift
Wedding Date Availability Riu Ocho Rios
keyboard_arrow_leftPrevious
Nextkeyboard_arrow_right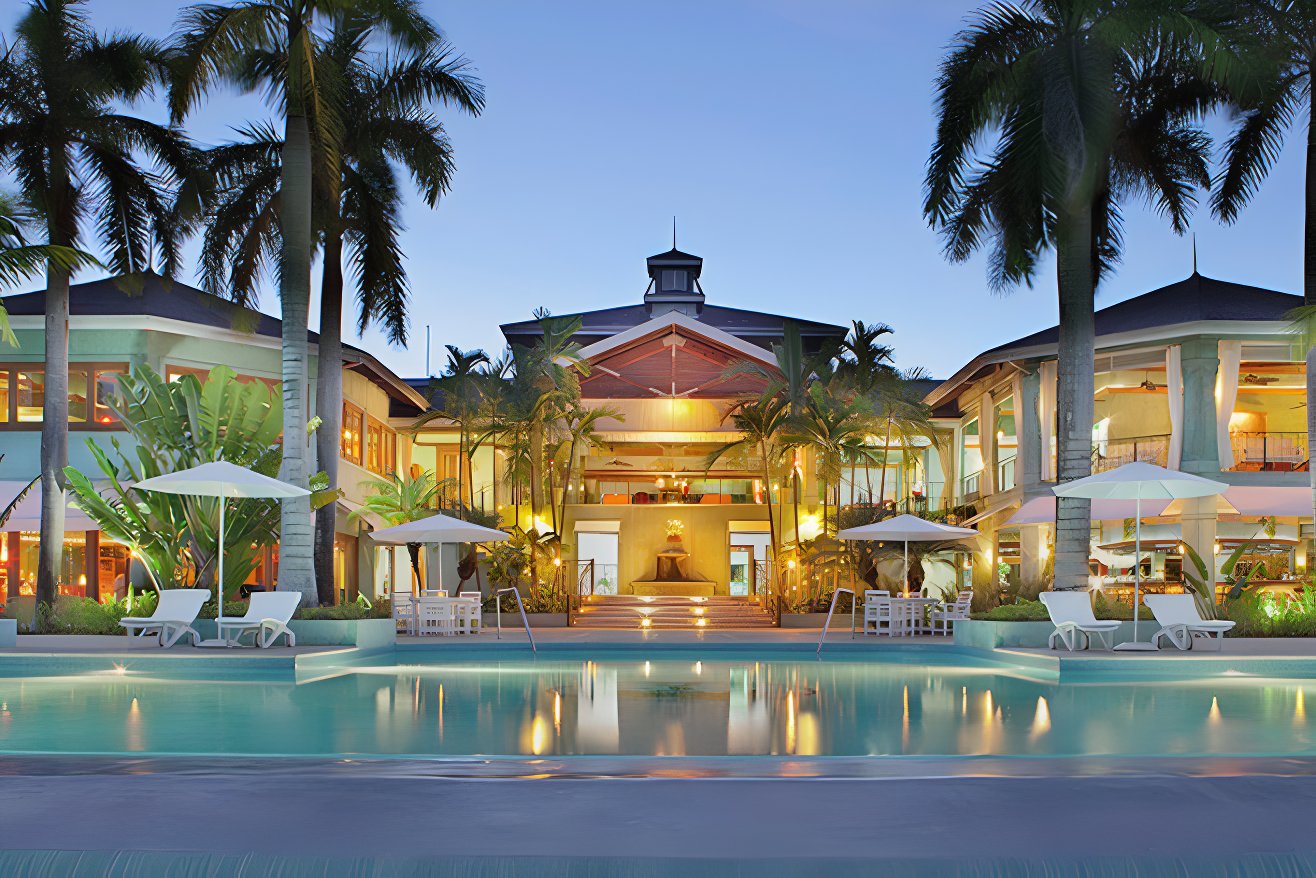 While a little more laid back than the more popular Montego Bay, Negril is still a thriving, fun-loving coastal town in Jamaica
Negril is home to miles of shallow waters, sandy shores, and beaches lined with restaurants, bars, and world-class all-inclusive resorts — like the stunning Couples Negril.
Offering activities ranging from tennis tournaments, glass-bottomed catamaran cruises, and dance classes, to meditation classes, yoga, and simply beachside strolls with a cocktail in hand, Couples Negril fuses (or rather, couples) together dynamic fun and laid-back vibes.
And the cherry garnish on top of this Couples Negril cocktail? They offer some of the cheapest wedding packages in Jamaica.
The Tropical Wedding package is a highly affordable package with unique inclusions like a couples massage and a professional photo shoot!
'Tropical Wedding' Package 2023 Price: $750+
Wedding Package Inclusions:
Your choice of spectacular wedding locations on the beach or in the gardens
Signature Rum Punch or sparkling wine toast for up to 10 guests
Designer wedding cake or cupcakes decorated with tropical flowers for up to 10 guests
Lush tropical flower arrangements and gazebo decorations (several options available)
Fresh bouquet and boutonniere in bright tropical flowers (several options available)
Professional photo shoot: Twelve printed 5×7 photographs; One printed 8×10 photograph; CD of all purchased images
Exclusive Wedding/Honeymoon registry
25-min couples massage
Two Couples Resorts champagne flutes
Automated Online Wedding Calendar
On-Property Wedding Coordinator
Wedding officiant
Marriage certificate
Celebratory t-shirts for wedding couple
Sunset hour (available upon request for an additional fee)
Wedding Date Availability Couples Negril
keyboard_arrow_leftPrevious
Nextkeyboard_arrow_right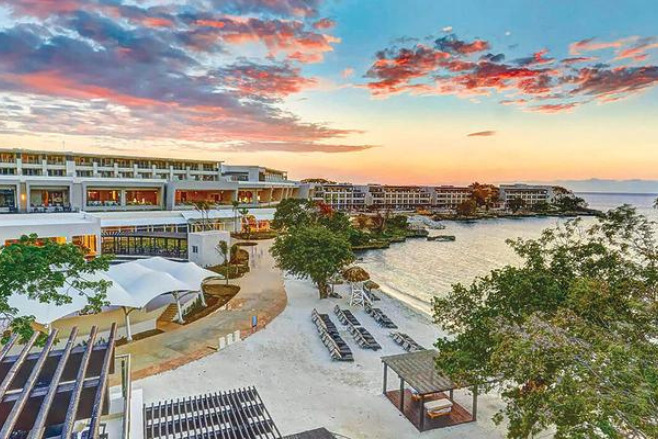 The adults-only 'Hideaway' section of the greater Royalton Negril resort is a chill haven for newly-weds-to-be who want their destination wedding to be more about 'Rest and Relaxation' than 'Non-Stop-Party.'
Hideaway at Royalton Negril ups the ante on privacy by providing guests with a secluded strip of wedding-gown-white sand beach. This intimate guarantees a dream-like beach wedding ceremony for you and your guests. Talk about romance!
For those couples tying the knot whose dream honeymoon includes romantic morning walks by the tranquil seaside, dinners for two at the intimate and vibrantly-flavored Dorado, and days spent clinking your cocktail glasses together under the serene Jamaican skyline; you've come to the right place.
Hideaway at Royalton Negril creates happy a happy wedding couple and happy bank accounts, thanks to their cheap wedding package rates!
'Luxury Wedding' Package 2023 Price: $999+
Wedding Package Inclusions:
Personal wedding planner & onsite coordinator
VIP welcome & late checkout for wedding couple (based on availability)
Wedding couple room upgrade (based on availability)
"Getting Ready" refreshments & fruit platter for the wedding couple on the wedding day
10% discount on spa services for entire wedding group
Ceremony location
Symbolic ceremony
Chairs included
Sound system for ceremony
1 tropical bouquet
1 tropical boutonniere
Ceremony table with linen & tropical centerpiece
Sparkling wine toast
Semi-private dinner at one of our restaurants (2 hour)
Personalized menu cards
1-tier wedding cake
Wedding Date Availability Hideaway at Royalton Negril
keyboard_arrow_leftPrevious
Nextkeyboard_arrow_right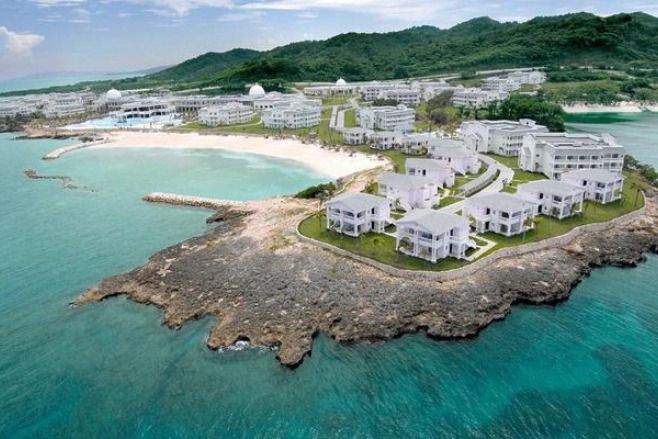 Much like with Riu, Palladium is another all-inclusive resort brand that we love sending our clients to! Palladium properties are situated within larger, multi-resort complexes. These complexes are home to several facilities and amenities that guests can access, like spas and gyms.
And despite their large size, Palladium strives to keep costs small!
Grand Palladium Jamacia especially fits this bill.
Not only are they cheap wedding packages, but their decor and stylings are crafted by award-winning designer and party guru Karen Bussen.
They offer a curated, pre-planned template that is also highly customizable. This means that whether you want a say in every detail of your special day or you desire a tried and true, pre-arranged format, you'll be swooning!
'Lovebirds' Package 2023 Price: $1,200+
Wedding Package Inclusions:
10 guests included (additional guests can be included with extra cost)
Private Check in for the wedding Couple
Dedicated Wedding planner
Wedding scenery decorated with a floral centerpiece and White Tiffany chairs for your guests
Symbolic Ceremony
"Love Birds "Personal Flowers for the couple
Sparkling toast immediately following the ceremony
Ceremony Sound System
One-tiered Wedding Cake in Your Choice of "Naked" or "Butter swept" Icing with fresh flowers
Special Turn down service on the wedding night
Breakfast in Bed for the Wedding Couple
Wedding Gift
Special Dining Arrangements for the Evening of the Ceremony
15% discount for a Moonlight Dinner or Twilight Dinner and Photoshoot
Wedding Date Availability Grand Palladium Jamaica
keyboard_arrow_leftPrevious
Nextkeyboard_arrow_right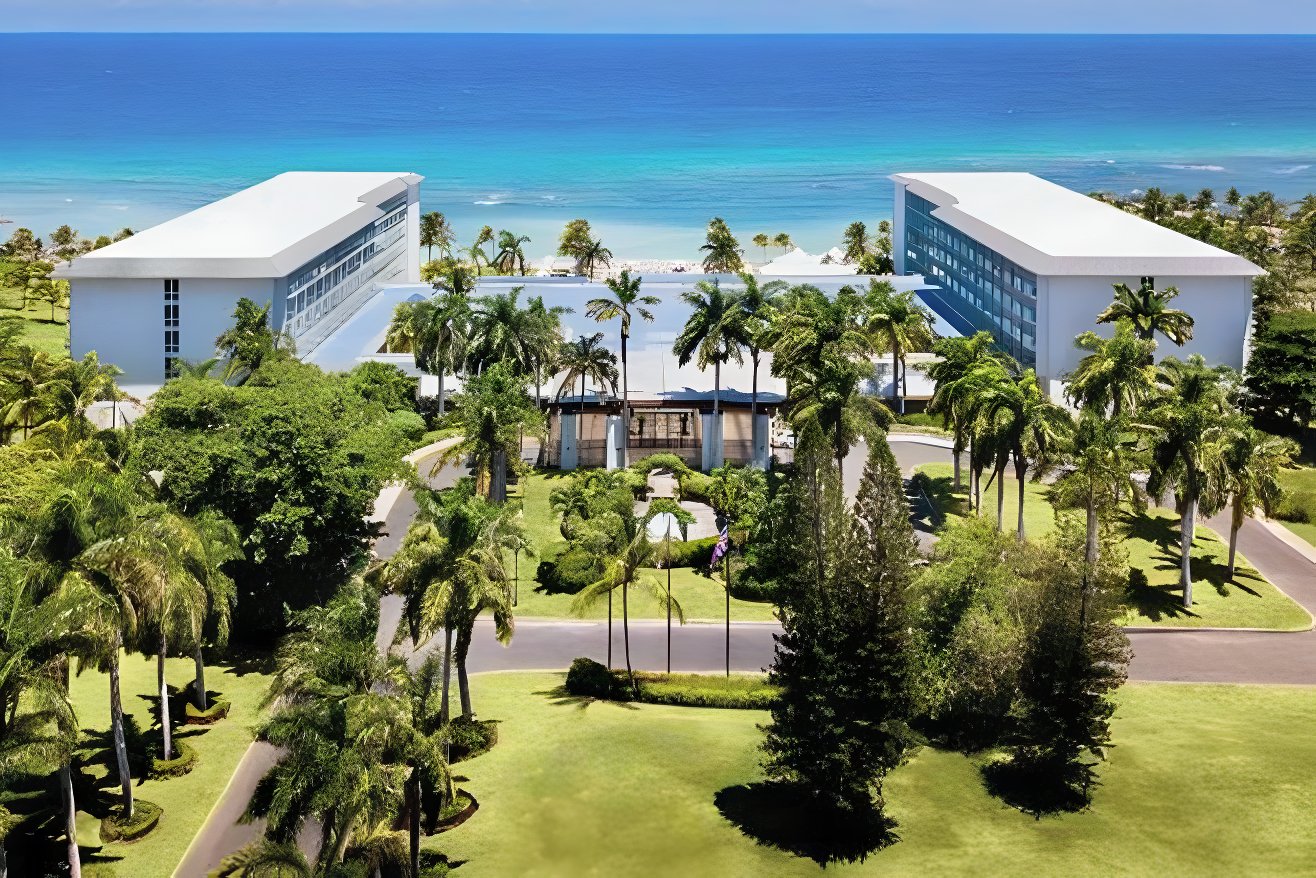 It's all coming up roses here, folks!
One of 'Destify's Favorites,' Hilton Rose Hall is the cream of the crop of our cheap wedding package selections.
With over 400 acres of tropical paradise stretching along Montego Bay's coastline, this resort is a bouquet of outstanding inclusions and amenities.
How about these to whet your dream wedding whistle?
11 gourmet restaurants and bars, with cuisines ranging from fresh seafood to barbecue.
An 18-hole golf course backdropped by the Caribbean Sea.
An on-property water park with live music and a lazy river.
And, extremely unique to the usual adults-only Jamaican resorts, Hilton Rose Hall is a family-friendly resort where children 2 and under stay for free.
Though this is the most expensive package on our list, your wedding dollar goes the furthest here!
Intimate Elegance Package: $1,289+
Wedding Package Inclusions:
Symbolic marriage ceremony, performed by a non-denominational officiant
Bouquet
Boutonniere
Wedding location
Sparkling wine toast after the ceremony
Wedding cake after the ceremony
Room decoration with flower petals & complimentary wine
Late checkout up to 3:00 PM subject to availability
Pre-planning and onsite services of a professional wedding specialist
Complimentary online registry
Access to online wedding planning tool
Ceremony table with white linen and folding wedding chairs for 10 guests
Sound system for the ceremony
25-minute massage for wedding couple
Romantic dinner for the wedding couple
Wedding Date Availability Hilton Rose Hall
keyboard_arrow_leftPrevious
Nextkeyboard_arrow_right
Get Ready to Save and Book Your Dream Wedding Today
We're here to take the stress out of your wedding planning process and your big day itself.
It's your wedding – we want you to enjoy it!
Money is always a consideration, and your budget is important! We hope that this list of 5 cheap Jamaica wedding packages has shown you that an 'affordable' doesn't mean you have to compromise on quality and luxury.
Talk to an agent today!