Cancun Weddings
Majestic Elegance Costa Mujeres Weddings
Situated on the prosperous Playa Mujeres coast, this resort guarantees pure destination wedding serenity, far from the reaches of the Cancun Hotel Zone. Boasts both elevated venue architecture and day-of technology.
Nestled on the northern shores of the Yucatán Peninsula, Majestic Elegance Costa Mujeres delivers a truly secluded destination wedding experience, away from Cancun's hustle and bustle. This hidden gem features appealing areas that will bring a futuristic edge to your ceremony, using the latest in contemporary wedding venue design. The resort's three magnificent locations, each with state-of-the-art A/V technology, can accommodate anything from 50 to an endless number of guests, making it ideal for huge destination weddings.
The resort's settings will continuously produce breathtaking ceremonies with flawless panoramas due to its location along the sun-drenched shores of the Caribbean Sea. Majestic Elegance ensures that your wedding is artistically spectacular. Choose between views of the azure waves from the lofty Sky Terrace or the other venues for a ceremony suffused with emerald flora. Majestic Elegance will keep you and your guests engaged with its extensive list of activities and on-site excursions.
Take a tour of the zen-inducing spa, where a combination of innovative therapies can help you relax during your wedding week. Are you traveling with a golf-obsessed bridal party? The Puerto Cancun Golf Course, a beautiful length of well-manicured fairways just a short drive from the hotel, is a great place to start. Additionally, all wedding guests receive daily butler service, which includes the finest premium alcoholic beverages and gourmet dishes delivered 24 hours a day, seven days a week.
Resort Information
Room price range:
$

140 -

$

280
See More
Majestic Elegance Costa Mujeres
Wedding Packages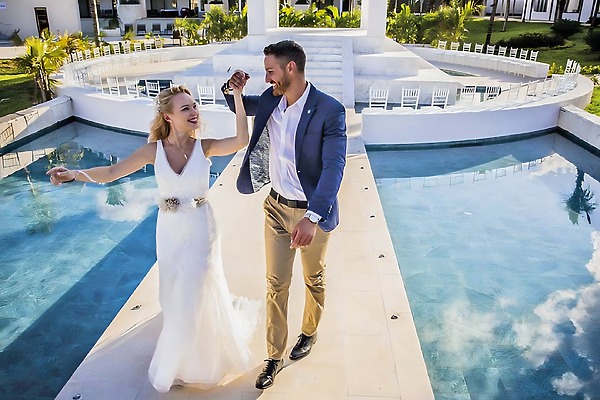 $

1,250+
On-site wedding planners
Several ceremony locations
Room upgrade for the Bride & Groom
Early check-in & late checkout for the Bride and Groom
Special bracelet for the Bride and Groom with exclusive access to all 3 resorts
Services of a Civil Judge
Beautiful wedding cake
1 tropical flower table arrangement
Tropical bouquet for the Bride and boutonniere for the Groom
Ironing of Groom's tuxedo and Bride's gown
Sound system and simultaneous translation
of the ceremony if needed
Marriage certificate in Spanish delivered by DHL
Champagne for the group after the ceremony
Romantic candlelight dinner with champagne for the couple
Romantic breakfast in your suite
Complimentary massage for the couple and use of water circuit
Basket of fruit in your room during your stay
Bottle of champagne in the room, twice during your stay
Room service included for the couple
Your Path to
Step 1

Discover Your Dream Destination

Step 2

Confirm Wedding and Room Reservation

Step 3

Explore Your Wedding Tools

Step 4

Meet Your Support Team

Step 5

Finalize Wedding Details

Step 6

Prepare for Travel

Step 7

Say I Do!
Learn More
Majestic Elegance Costa Mujeres
Resort Information
Room price range:

$

140 -

$

280
$

140 -

$

280
average price per person per night. Standard accommodations include one king or two queen beds, a jacuzzi, a private balcony or terrace, air conditioning, full bathroom with walk-in shower, smart tv, bathrobes, and a stocked minibar.
Property size:
Large
At over 600+ rooms, Large Resorts offer vacationers a sweeping landscape of activities, amenities, and space to enjoy their vacations at their own individual pace. An excellent option for a diverse destination wedding guest list with friends and families from all walks of life.
adults-only / family friendly:
Family Friendly
Resort aesthetic:
Modern
A clean-lined design featuring minimalistic aesthetics and natural materials. Environmentally friendly, the resorts featuring this design aesthetic offer natural lighting and open floor plans.
Activity level:
Medium
Offering guests the opportunity to either kick back and relax or participate in the resort's myriad of activities offered. Some of the activities provided in these resorts include themed nights, water sports, and some live entertainment. An excellent choice for large groups desiring various levels of engagement.
Room occupancy:
4
There is a maximum of 4 adults, 3 adults and 1 child, or 2 adults and 2 children permitted per standard accommodations. The children's age break is 12 years old.
Weddings Per Day:
2
The resort can accommodate up to 2 weddings per day. Majestic Elegance Costa Mujeres weddings are performed Monday – Sunday. Same-sex marriages are available at this resort.