Choosing your wedding destination can be hard. With many paradisal choices available, you could close your eyes, point anywhere on the map, and still find a gorgeous location. However, we recommend gorgeous beach resorts as our preference! But which places deliver the best version of white sand beaches, azure waters, and all-inclusive resorts? Let's explore the most beautiful places to get married:
Riviera Maya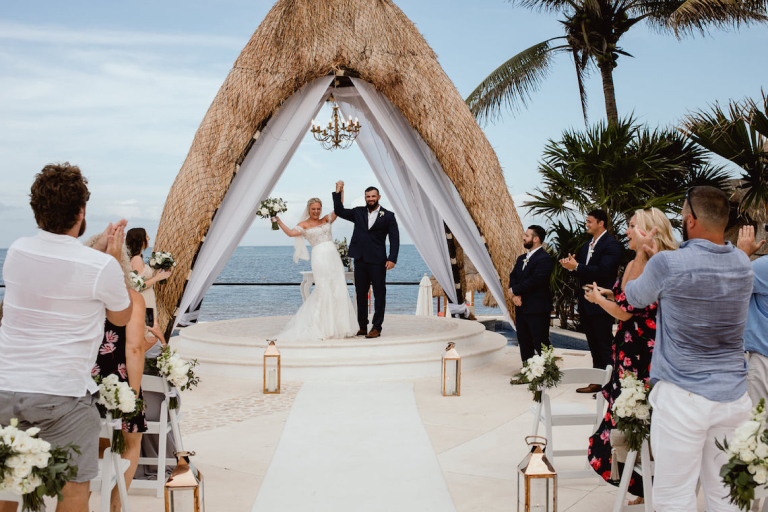 Riviera Maya
is where you'll find some of Mexico's most stunning beaches. Even better? Maroma Beach has consistently been ranked as the world's best beach. The opulent coastline is located about 45 minutes south of Cancun, where you can discover expansive resorts and vast stretches of white sandy shores, ideal for a wedding ceremony with 20+ guests at your destination. This region is also renowned for its lush jungles filled with vibrant fauna and wildlife; you may even meet a peacock or two on your way to breakfast.
Recommended Top Resorts: Dreams Tulum, Royalton Riviera Cancun
Punta Cana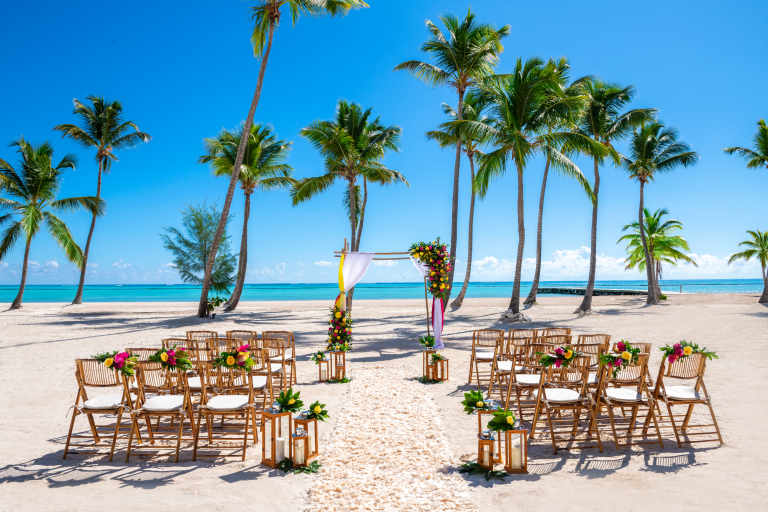 The easternmost part of the Dominican Republic, where the Caribbean Sea meets the Atlantic, is where
Punta Cana
weddings flourish. Punta Cana wedding resorts feature a 20-mile stretch of palm-tree studded beaches. Leading the pack, Bavaro Beach has been ranked by National Geographic among the top 10 beaches in the world. Because of this, every Punta Cana wedding provides the perfect ingredients for a memorable beach ceremony: crystal clear waters and seemingly endless sunshine.
During your Punta Cana wedding, golf lovers can enjoy 10 beautiful courses spread throughout the city, many of which feature ocean views. You can visit the casino for the nightlife, and travel time is just 20 to 30 minutes from the airport.
Recommended Top Resorts: Secrets Cap Cana, Hyatt Ziva Cap Cana
Negril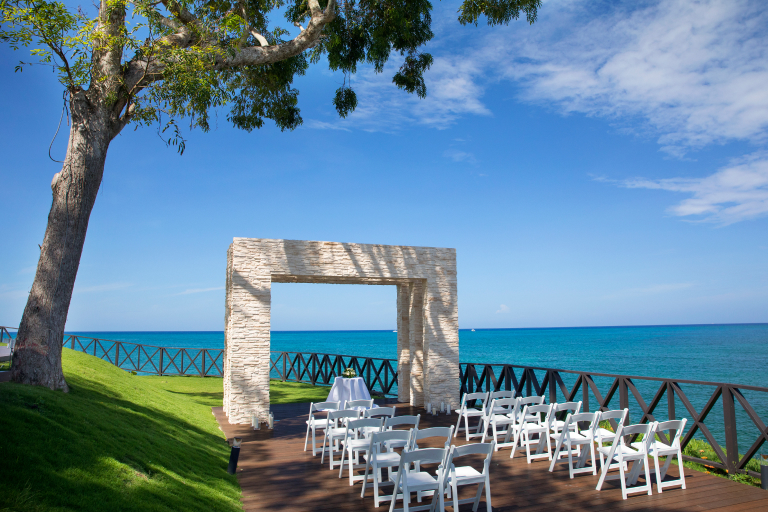 Negril's
beach is also ranked as one of the world's top 10 beaches, offering powdery sand and turquoise water that can provide a beautiful backdrop for your wedding ceremony with 20+ guests at your destination. This is a safer and more relaxed area of Jamaica, just over an hour away from the airport, but you can find bars and restaurants that line Long Bay. There is also a lagoon where you can snorkel or scuba dive, surrounded by coral reefs. One of Jamaica's most popular locations is Rick's Cafe; visitors flock here to enjoy the colorful, uninterrupted sunsets and to leap from the 35-foot cliff into the ocean.
Recommended Top Resorts: Royalton Negril
These sun-soaked regions represent the pinnacle of destination wedding locations. Featuring refined luxury resorts and the best natural beauty in the world, Riviera Maya, Punta Cana, and Negril will guarantee a truly visually-striking experience for your wedding party. Perhaps the only "difficult" part? Deciding which of these alluring places is better than the other.
Curious about what your dream wedding would look like in one of these havens? Follow the button below to view our Destify Couples and their beautiful experiences: