Positioned perfectly on Jamaica's northern tip, Montego Bay delivers palatial sunsets, mouthwatering jerk cuisine, and an impressive array of extravagant wedding resorts. A seemingly easy task, it can be quite difficult to narrow your sights on the right property in a multitude of hotels. Fortunately, after copious amounts of research, we have discovered the Top 2020 Montego Bay Wedding Resorts, a powerhouse list of hotels with incredible reputations and memorable wedding experiences:
Grand Palladium Lady Hamilton
Family-Friendly, Intermediate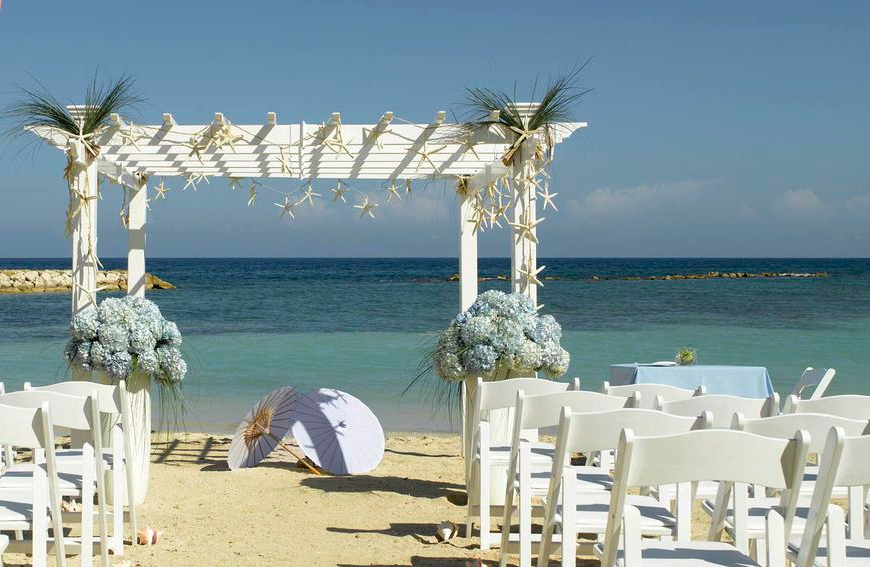 Grand Palladium Lady Hamilton
The crown jewel of Fletcher Beach's powdery shores, Grand Palladium Lady Hamilton promises a distinctive destination wedding that'll have your wallets saying "Thank You!" Garnering architecture inspired by Roman structures of old, the property and its diverse venue spaces fuse effortlessly to form an elegant array of picturesque backdrops.
Capable of hosting large wedding parties of all ages, the Grand Palladium Lady Hamilton offers various family-friendly activities and adults-only sections that will keep your guests entertained throughout the week. From the shimmering lazy river to clothing-optional beach areas, the resort is ideally suited to fulfill your travelers' perfect Jamaica retreat.
Royalton White Sands
Family-Friendly, Intermediate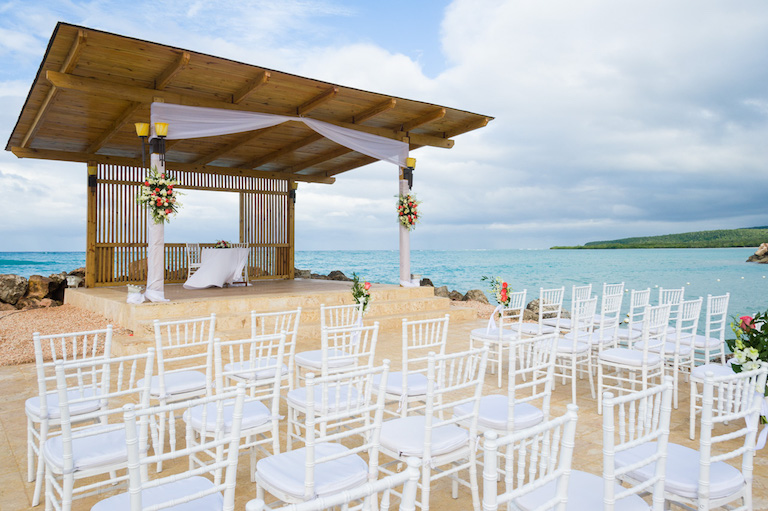 Royalton White Sands
An all-inclusive paradise overlooking the glistening White Bay, Royalton White Sands is one of Montego Bay's top-tier wedding resorts idyllic for sizable wedding groups. Capable of accommodating 3 ceremonies per day via extraordinarily situated venues, the property welcomes guest lists between 70 and 100 travelers. Whether you're tying the knot in the breezy open-air Beach Club or saying "yes" under a handcrafted Garden Gazebo, the resort will deliver an unforgettable day of romance that is uniquely yours.
Worried about privacy? Royalton White Sands' secluded beach is separated from public access by natural barriers and fences to guarantee a truly unbothered tropical environment. Younger guests can zoom through a bevy of water slides at the property's on-site water park, or even compete against their peers in a friendly basketball tournament. Meanwhile, adults can take advantage of the world-class Royal Spa, where exfoliating facials and full-body massages await.
Zoetry Montego Bay
Family-Friendly, Luxury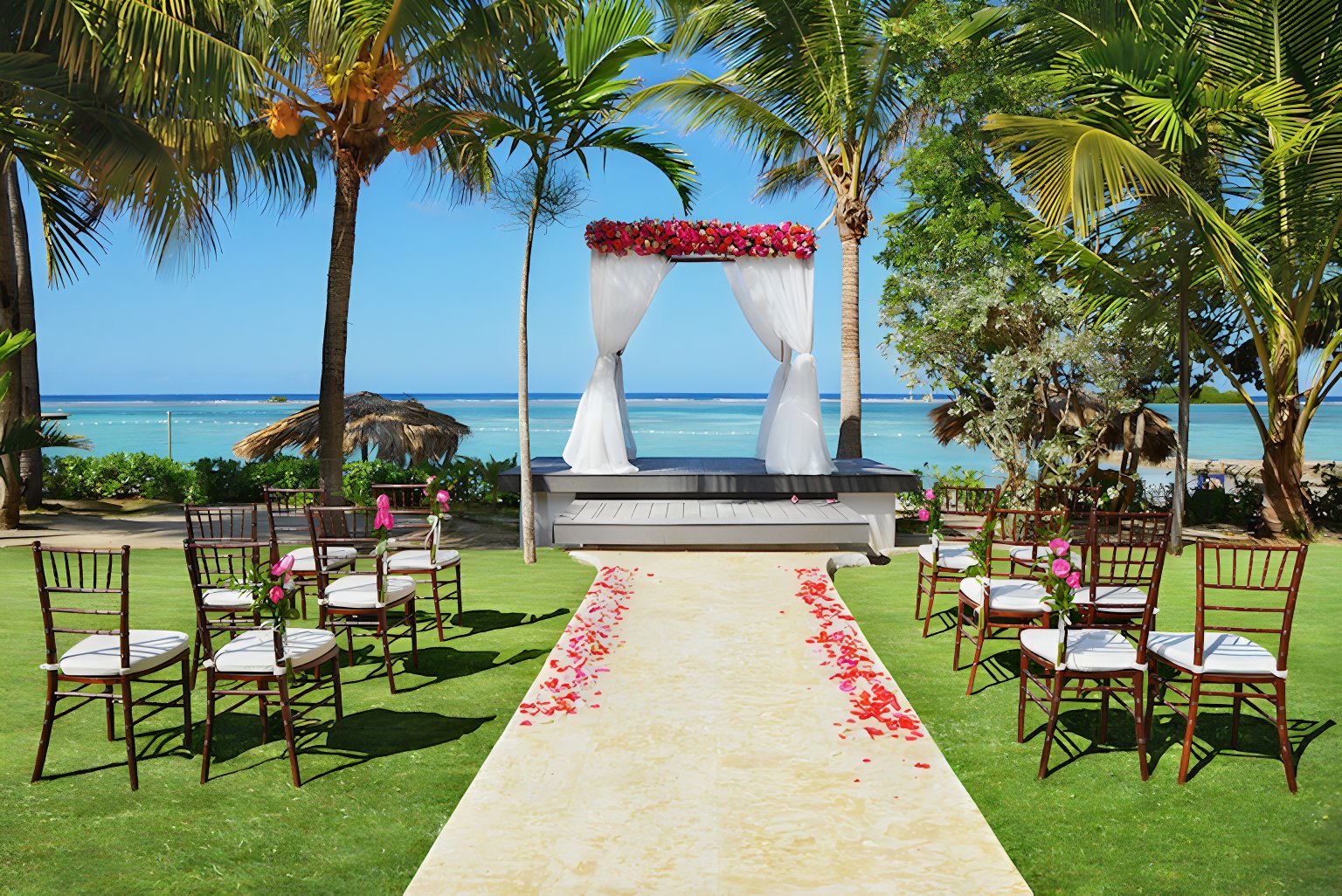 Zoetry Montego Bay
Nestled in the heart of Jamaica's Ironshore neighborhood, Zoetry Montego Bay provides an upscale boutique stay ideal for smaller wedding parties. Featuring more intimate celebration spaces compared with its counterparts, the property offers venues ranging from an 80 guest max flora-infused garden to a compact 15 guest max oceanside pier. The resort also offers a complimentary wedding package that welcomes a maximum of 25 guests, along with a dazzling set of customizable amenities.
Progressively surging into the 21st century, Zoetry Montego Bay sources locally grown, organic ingredients and produce that elevate their world-class fine dining options from "great" to "delectable." Although Zoetry is a smaller boutique property, the hotel hosts daily catamaran snorkeling tours of Montego Bay's fascinating marine wildlife that'll delight your wedding guests throughout their stay.
Secrets St. James
Adults-Only, Luxury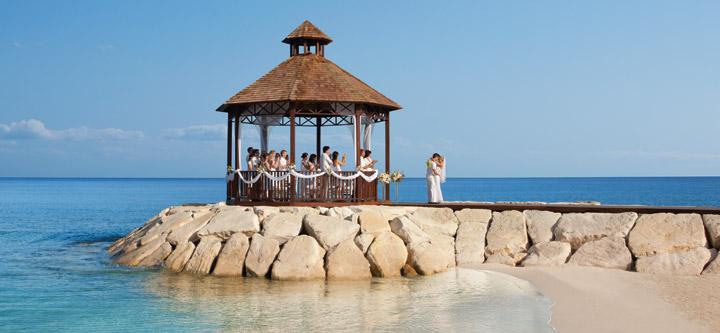 Secrets St. James
Our Top 2020 Montego Bay Wedding Resorts list brings us to Secrets St. James, the quintessential adults-only property. Prospering on a private stretch of beach once owned by the British Empire, the resort carries a strong note of historical reverence, while maintaining the region's whimsical island charm. Providing a selection of varying wedding venues, Secrets St. James can flexibly accommodate anywhere between 15 to 400 guests via naturally enriched spaces.
In addition to its delicious selection of fine dining and excursion options, the resort also shares exchange privileges with the nearby Secrets Wild Orchid. Due to the hotels' close proximity to each other, wedding guests can enjoy a wider range of luxurious amenities such as racquetball lessons, tranquil spa facilities, and professionally guided Scuba tours.
Representing the gold standard of lavish Montego Bay wedding resorts, the above properties possess impressive track records comparable to other top resorts in the Caribbean. What makes the aforementioned wedding environments so noteworthy isn't simply their opulent locations; rather, each property ensures a purely unique experience different from the other.
Interested in learning more about Montego Bay's classy wedding resorts? Follow the button below to research our partnered hotels: