The state of Hawaii, made up of several beautiful islands, offers a variety of landscapes and atmospheres for every type of traveler. From the exploration of volcanoes to relaxing on one of the many varied beaches, or plenty of shopping and nightlife, Hawaii has something for everyone. In today's post, we're covering 5 resorts for weddings in Hawaii, and some enticing information about each one.
It should be noted that hosting a wedding in Hawaii is very similar in costs to a traditional stateside wedding, and many Hawaiian resorts do not include receptions in the cost of your ceremony. Hawaii does not offer all-inclusive resorts, so everything is a-la-carte, and your wedding could lead to a steep price tag. But with that price tag comes unparalleled beauty and an unforgettable location that doesn't require a passport.
Four Seasons Lanai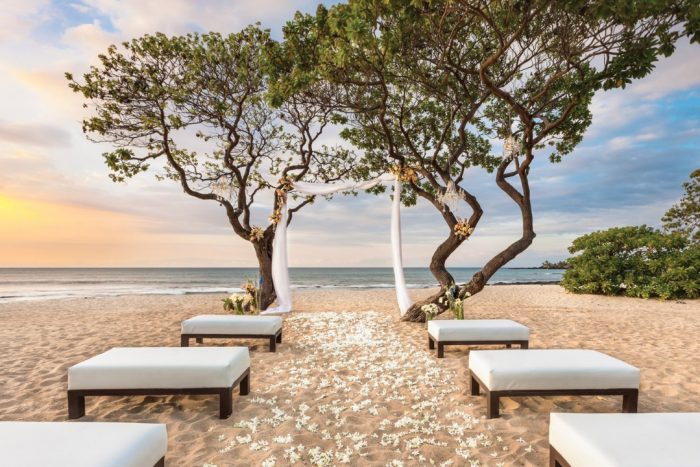 Four Seasons Lanai
For couples who have no budget, there isn't a better place for a destination wedding then the
Four Seasons
Resort in Lanai. It offers seclusion, romance, and out-of-this-world service, which will leave every one of your guests living in luxury for the duration of their stay. The resort rests on a marine reserve, where turtle and dolphin sightings are common, and there are great snorkeling opportunities directly from the resort. Perhaps, what's most stunning, are the ceremony venues, featuring gorgeous locations that offer panoramic views of Hawaii's last unspoiled island.
The Royal Hawaiian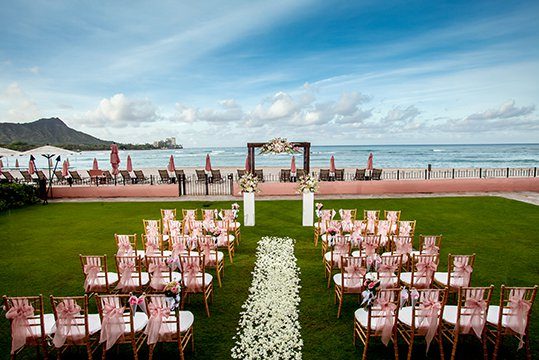 The Royal Hawaiian
The Royal Hawaiian
is truly iconic, known as "the pink palace of the Pacific". The bright facade resonates the island culture and the legendary hotel which was built in the 1920s is just steps away from famous Waikiki Beach. Throughout your stay, guests can expect a welcome cocktail upon arrival, daily hula lessons, and nightly turndown treats. And with the iconic architecture comes beautiful ceremony venues, from the numerous terraces featuring ocean views to the intimate garden that would be perfect for a traditional lei exchange.
Turtle Bay Resort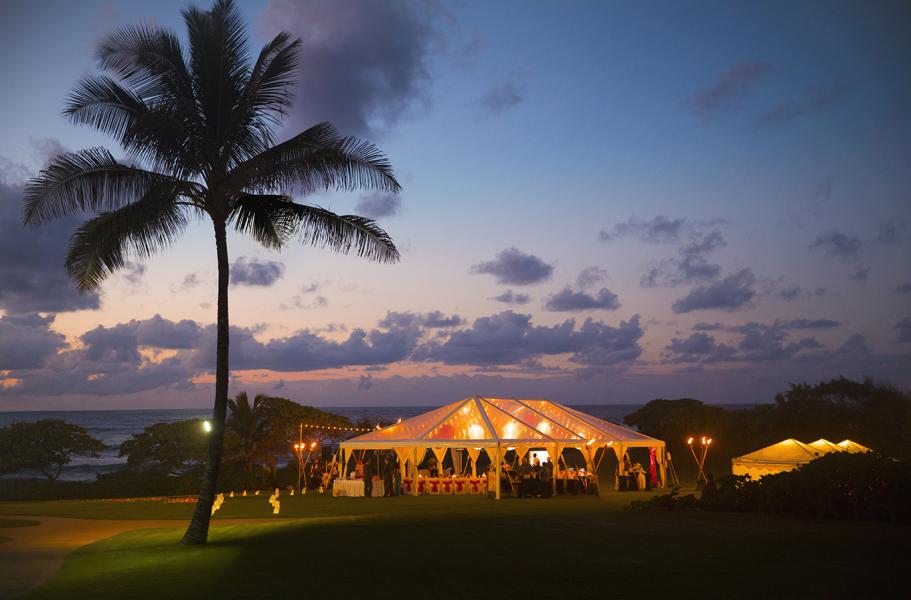 Turtle Bay Resort
The
Turtle Bay Resort
in O'ahu is located on a remote outcropping of Kawela Bay, with beaches that offer snorkeling or surfing opportunities, and other coves that present views of humongous waves. Wedding packages are plentiful, and the ceremony venues feature everything from presidential suite gardens to horse stables. A rarity for Hawaiian wedding packages, some even include the reception for after your ceremony. For Catholic or religious ceremonies, there is even a chapel located on-site. Beyond the wedding festivities, guests can enjoy horseback riding, beachy-chic rooms, numerous restaurants, and even some saline pools.
Hyatt Regency Maui Resort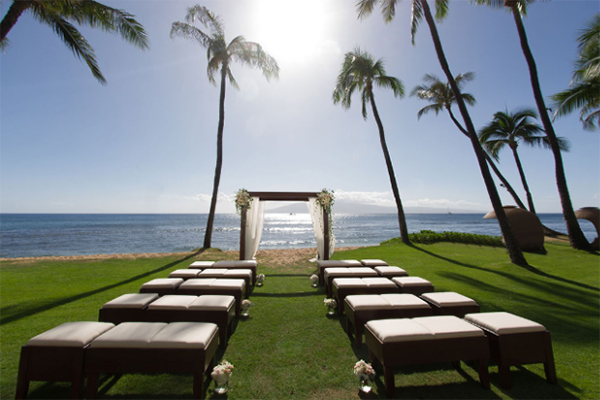 Hyatt Regency Maui
The
Hyatt Regency
resort in Maui offers a special slice of paradise for destination weddings, from gorgeous oceanfront venues to Asian gardens, ideal for memorable wedding ceremonies. There's even an on-site amphitheater that provides Hawaiian "dinnertainment" with a traditional hula show and authentic food. During the day guests can partake in lei-making classes or hula lessons, and the pool complex features a waterslide that will delight family members of any age. There are plenty of dining and drinks throughout, including a grotto bar that will excite adults.
Westin Hapuna Beach Prince Hotel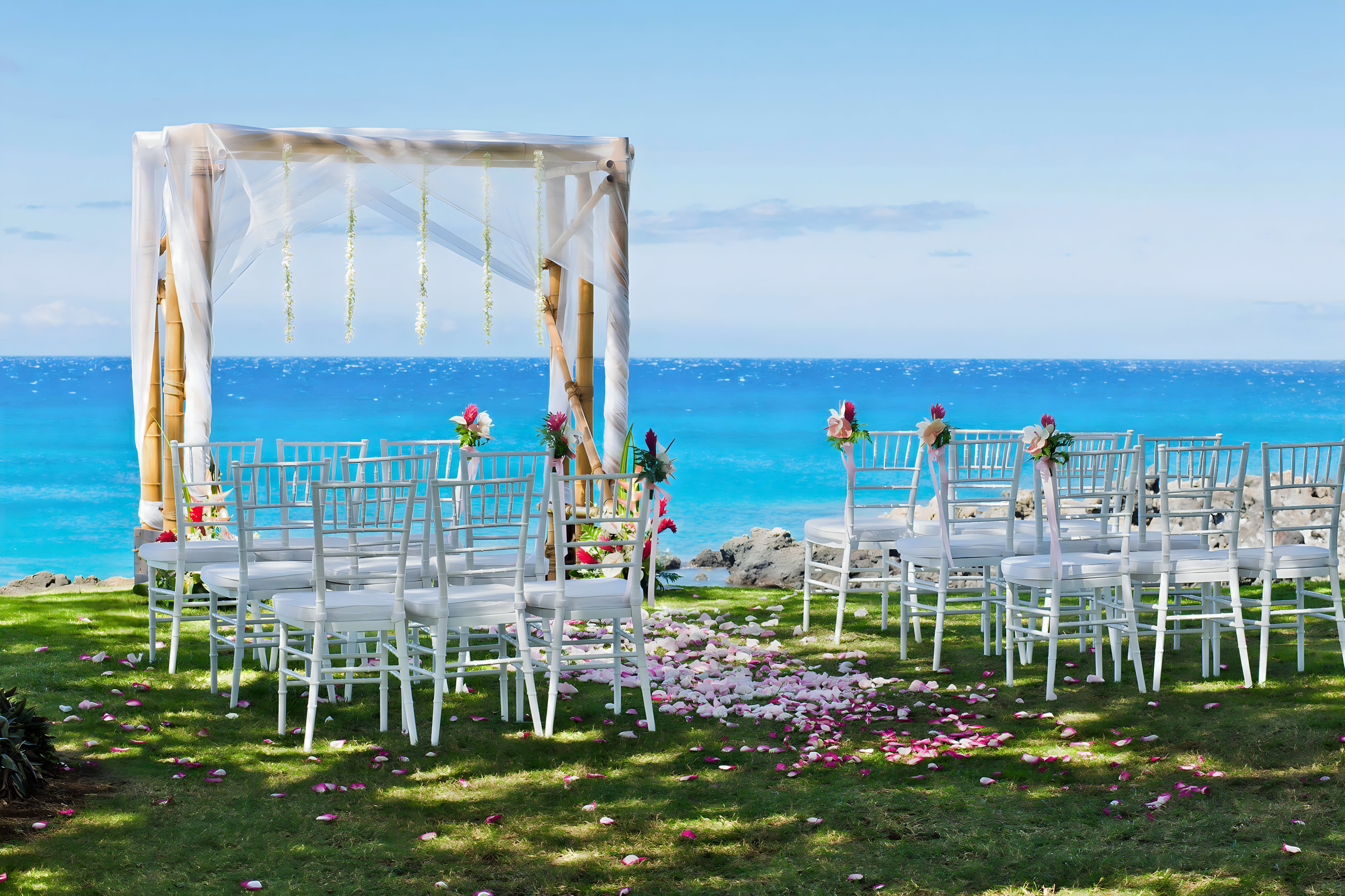 Westin Hapuna Beach Prince Hotel
The recently renovated Hapuna Beach Prince Hotel has been bought by Westin, and with the Westin name, comes impeccable service and refined luxury. This resort has been a staple of the Big Island since it opened in the 90s, and a wedding ceremony here would do well to capitalize on the Pacific waters as its backdrop. The monthly calendar includes everything from art festivals to unique dinner series. The word Hapuna translates to "springs of life", where guests can enjoy the natural springs featured throughout the property.
Want to explore all Hawaii has to offer for your destination wedding? Click the button below to learn more about this US destination: