Lush with historic emerald jungles practically kissing the shoreline, Riviera Maya is one of Mexico's most gorgeous wedding destinations. With five-star properties filled with luxurious amenities and customizable wedding packages, Riviera Maya's top resorts are perfect for couples seeking a ceremony enriched with ancient beauty. Let's take a look at some of these serene wedding resorts:
Dreams Tulum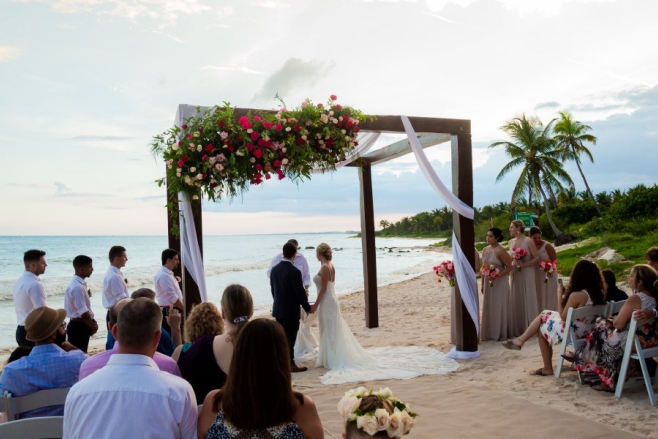 You will be left speechless by the jungles, crystal clear seas, and colonial architecture of Dreams Tulum wedding resort. This resort has countless opportunities to feel serene, sitting on 2 miles of powdery fresh beach, a secluded adults-only area and every room offering a hammock on the private balcony. With Mayan holistic well-being rituals establishing a leisure environment, this is the ideal resort for all your wedding guests to unwind and enjoy themselves.
Royalton Riviera Cancun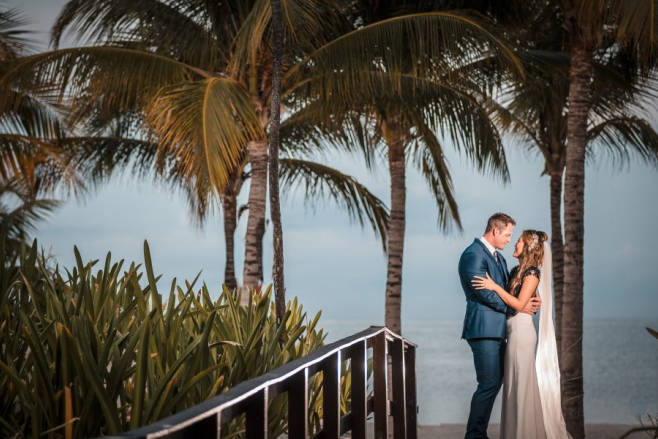 A sprawling complex with bountiful pools and serene ocean views is offered by the Royalton Riviera Cancun, sure to delight any wedding guest. Garnering Caribbean décor and punctual service for the duration of your stay, this slice of paradise guarantees the finest destination wedding experience. With all-inclusive wedding packages offering delectable cuisines and seemingly endless benefits for all newlyweds, Royalton Riviera Cancun delivers the height of luxury.
Hard Rock Riviera Maya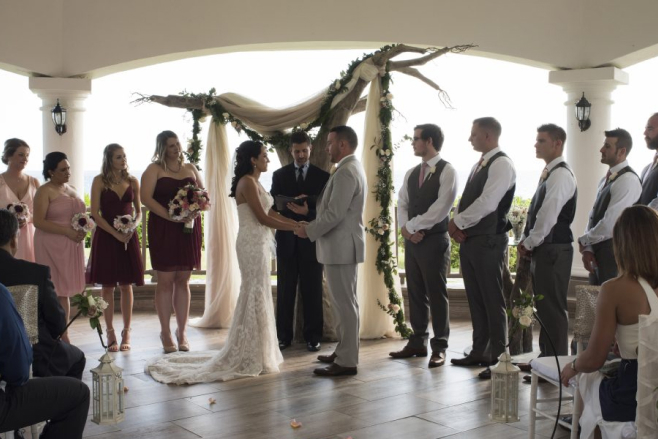 The Hard Rock Riviera Maya is a Caribbean paradise, providing private beach access to oceanic lagoons, sure to make your wedding destination truly photogenic. The grounds feature lush flora and the rooms feature rock n 'roll specifics that will hit you and your wedding guests with all the right notes. For couples seeking a ceremony that is equally stunning as it is luxurious, a Hard Rock Riviera Maya wedding is truly the best choice.
UNICO 20°87°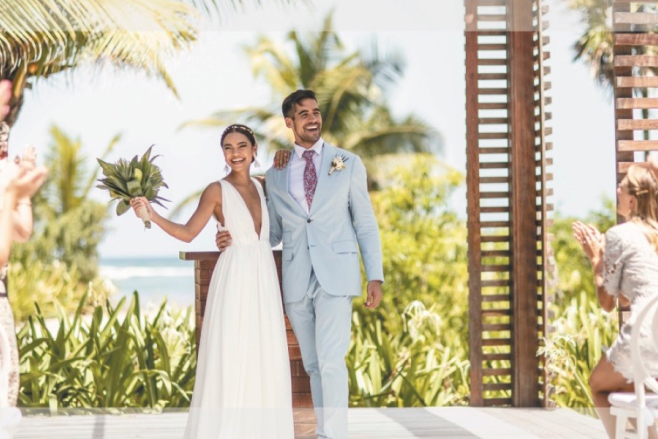 Local inspiration is used by the high-end UNICO 20°87° adults-only resort to welcome foreign audiences. Your destination wedding could draw on the no-itinerary-necessary" slogan of the resort, where excursions are included, and each inch of the resort offers a spectacular view. Your UNICO 20°87° wedding ceremony could feature decor designed by a celebrity designer, delectable gourmet cuisine, and thoughtfully decorated guest rooms, and this is definitely one of our most luxurious top resorts.
Sandos Playacar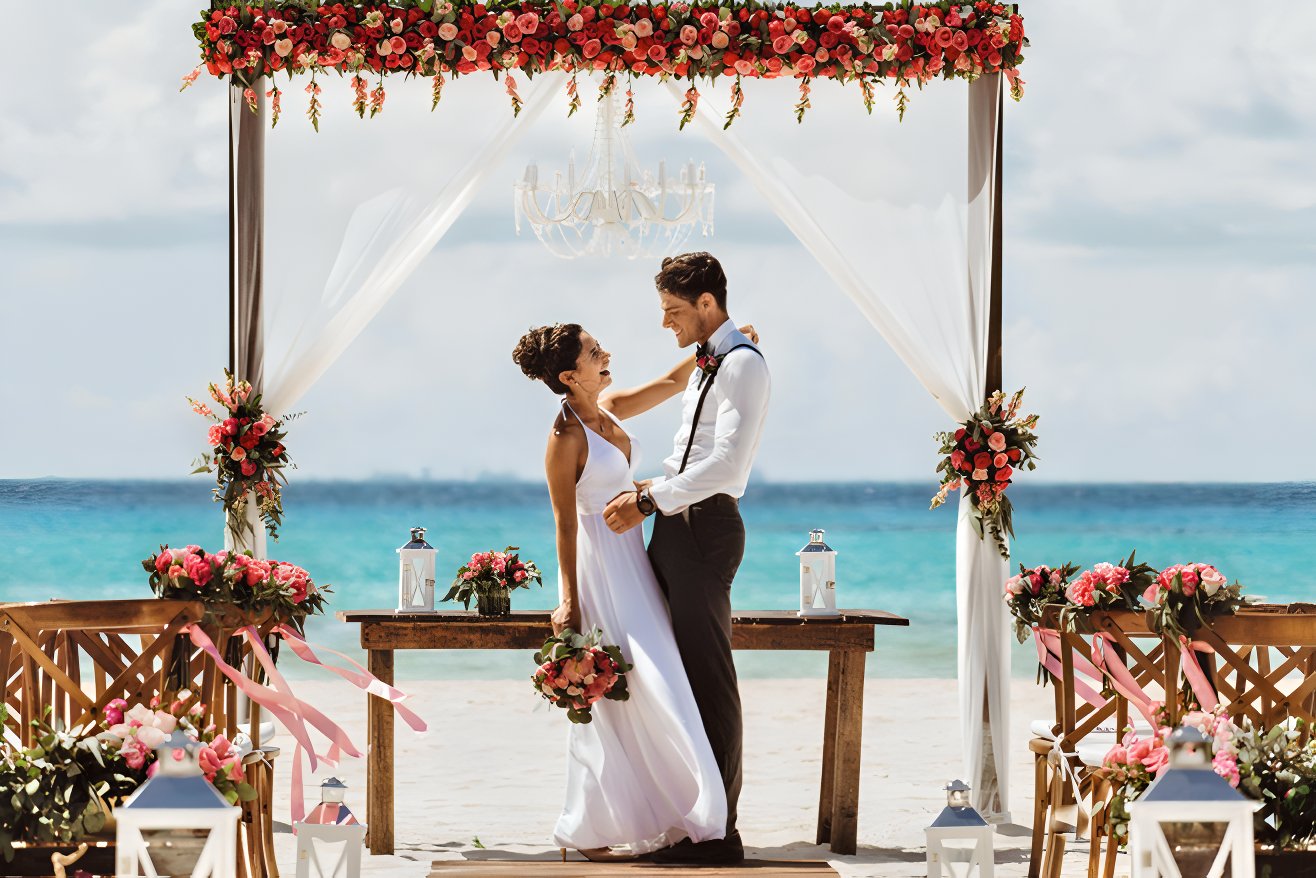 Only 15 minutes away from the lively town of Playa del Carmen is the Sandos Playacar Beach Resort. Nestled on a long stretch of gorgeous, white sandy beach, its unusual location enables a more private, intimate beach wedding ceremony with spectacular views of the ocean. Wedding guests at Sandos Playacar Beach Resort can enjoy the four main resort areas, including one that is adults-only. There's plenty to enjoy outside the wedding festivities, including over 9 pools to explore, a sweat lodge and full-service spa, and even an on-site mini-eco park to get close to the local wildlife and plants.
Riviera Maya represents the cream of the crop when it comes to secluded destination weddings. Far from the hustle and bustle of Cancun, this paradise delivers luxury amenities with contemporary charm. From refreshing cenotes to floral wonders, Riviera Maya and its lavish wedding resorts should be on your wedding planning list for 2021.
Want to learn more about Mexico's elegant resorts? Follow the button below to discover your oceanside haven: