One of our most common questions a couple asks our travel agents is to discern the difference between ceremony types. That's why today on the blog we're revisiting symbolic vs. legal ceremonies, and what they mean for your chosen destination. The short-end of the matter is that symbolic ceremonies have much fewer loopholes to jump through in order to have your destination wedding, and can be much more cost-effective too. Follow below as we break down the two ceremony types: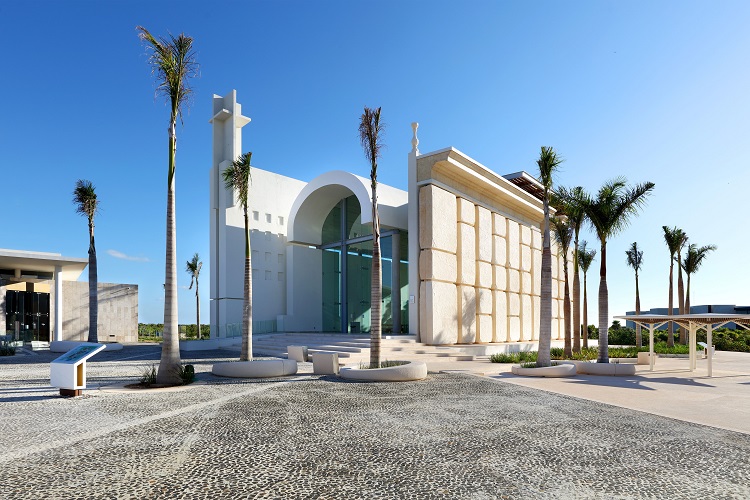 The Chapel at Grand Palladium Costa Mujeres
Symbolic Ceremonies
Symbolic ceremonies allow couples a more affordable and hassle-free experience. Most often, couples get married in the U.S. state they reside in, like at the courthouse, and then simply bring proof of their marriage to their resort in order to have their wedding ceremony. Your wedding party won't notice the difference, wether your ceremony is legal or symbolic either way unless it's truly important you sign your legal papers after you say, "I do".
Symbolic Ceremonies are:
– More affordable
– Most popular
– Same-sex friendly
– Have the same ceremony
– Use a non-denominational minister
Legal Ceremonies
Legal (or sometimes called Civil) ceremonies are less common when it comes to destination weddings. That's because it means they are legally binding on the country you choose to get married in. They are necessary for Catholic weddings. Legal ceremonies have additional fees and requirements. For example, you may have to get bloodwork completed in your chosen destination and arrive a certain period of time before your ceremony.
– Legal Ceremonies are:
– Legally binding and require notary fees
– Require extra legal fees
– May require documentation translation
– Performed by a judge
Symbolic vs. Legal Ceremonies
Either way, couples will need to arrive early to their chosen destination. For a symbolic ceremony, they may just have to arrive a day or 2 before their ceremony. A legal ceremony may require 4+ days in advance.
For a legal ceremony, you may have to provide bloodwork, birth certificates, and additional paperwork. There is yet to be a destination of ours that allows for same-sex legal ceremonies, but this may change with upcoming passed laws in Mexico.
To see more about ceremony types, visit our useful chart tool by clicking the button below: