In honor of Pride Month across the United States, we're featuring some of our favorite LGBT-friendly resorts ideal for same-sex destination weddings and vacations. We've covered the topic in the past and how LGBT attitudes are displayed across the Caribbean, it varies by country. We've also written about the growing acceptance of gay rights across the island nations, and which countries are perfect for your next same-sex vacation or wedding. Follow below to read about 5 of our favorite resorts that are perfect for your next getaway or even sharing your wedding vows.
CHIC Punta Cana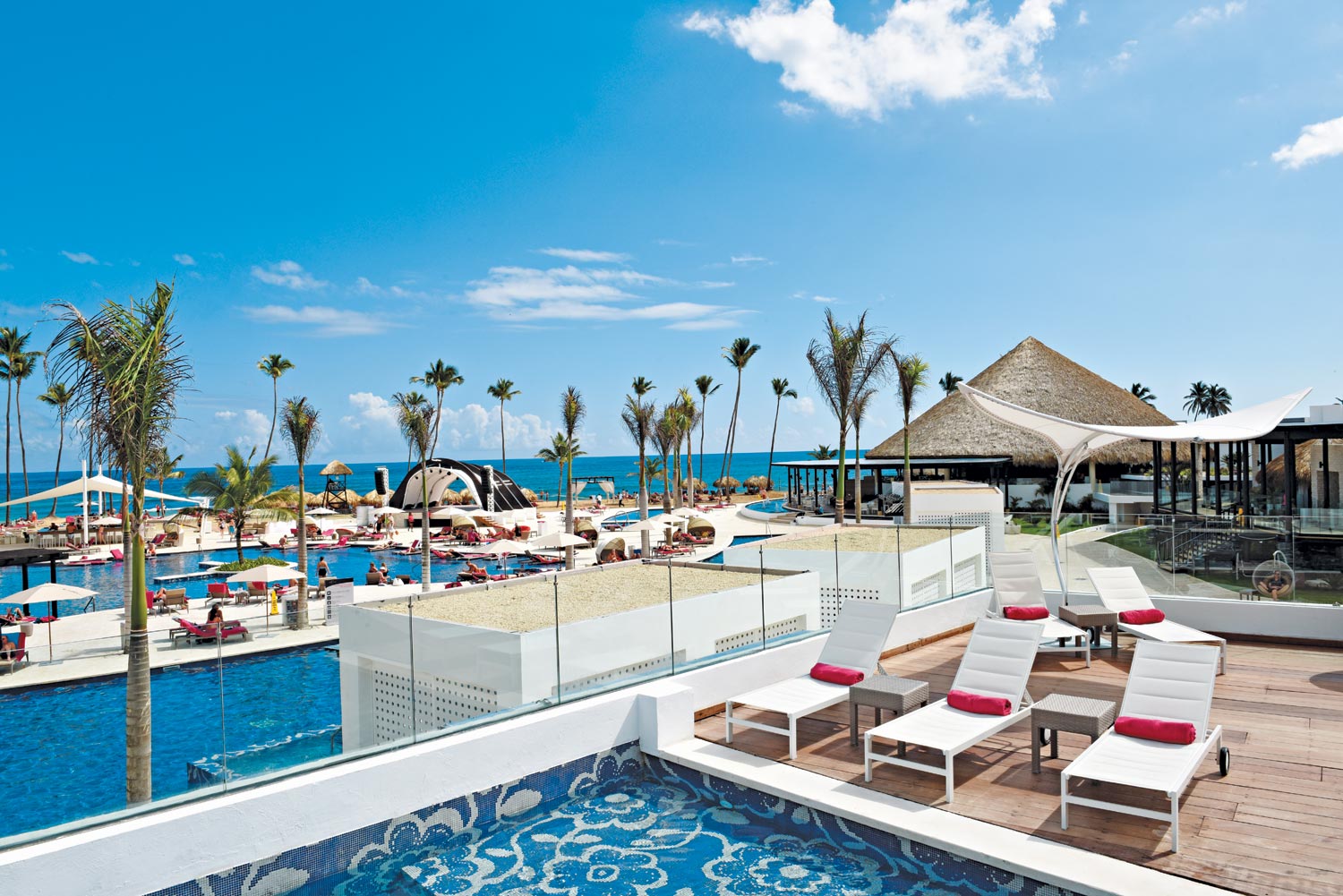 CHIC Punta Cana
CHIC Punta Cana, by Blue Diamonds Resorts, is an exclusive adults-only property in beautiful Punta Cana. You can expect a pristine beach and trademark crystal clear Caribbean waters that would be perfect for a wedding ceremony. Guests will love the gourmet food offerings, stylish pool complex, lively party atmosphere, and the signature cocktails available at the resort's many bars.
The resort has gone beyond simply offering a welcoming atmosphere for the LGBT community. In fact, they've hosted Caribbean Pride month parties, coordinated gay-friendly excursions and even held performances by international DJ's and drag queens. Although local laws towards same-sex couples can be off-putting in the Dominican Republic, it's safe to say the management team of Blue Diamond Resorts in Punta Cana will continue to feature exciting events, while offering an inclusive resort for your gay wedding or next queer-friendly vacation.
Hyatt Ziva Riviera Cancun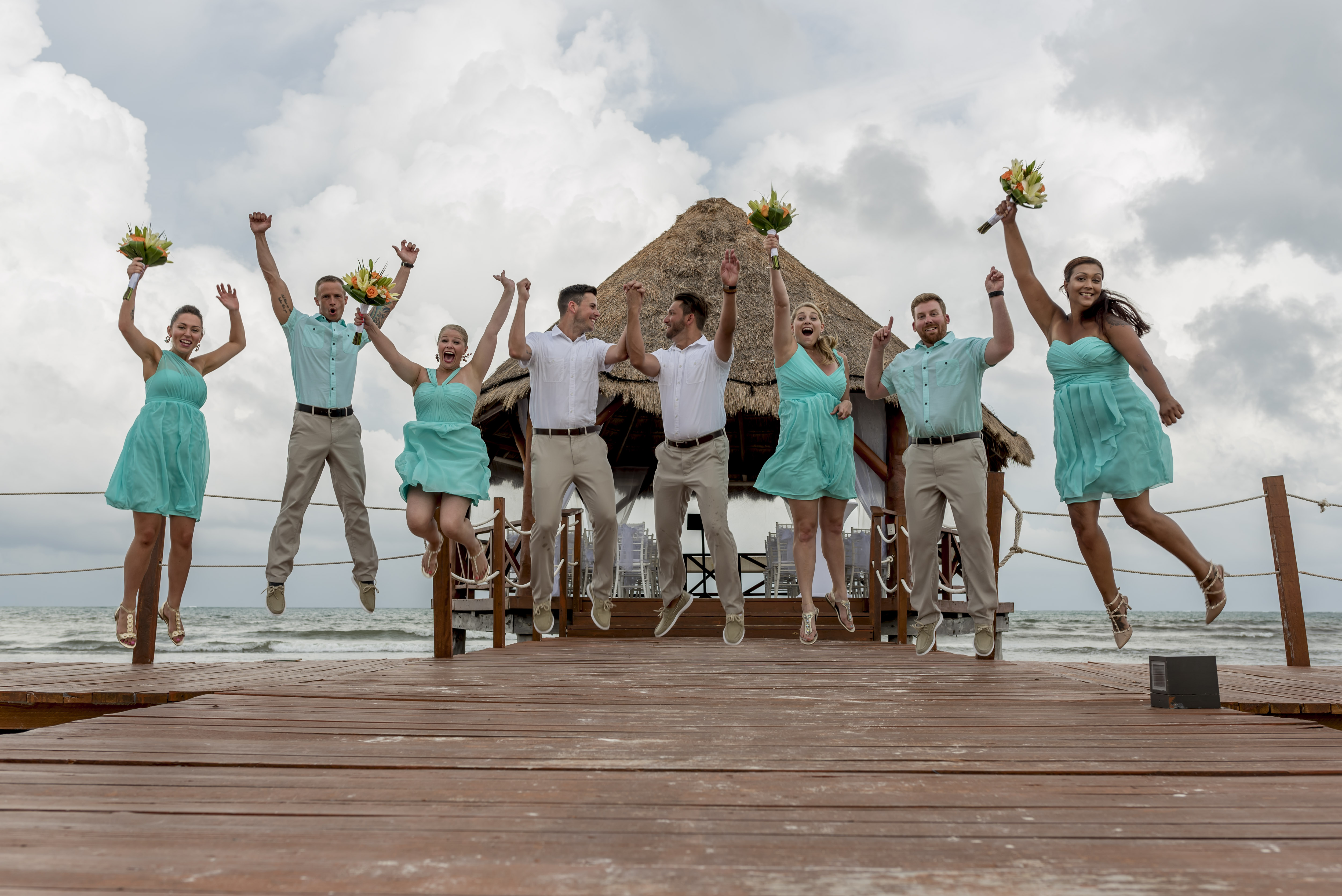 A wedding at Hyatt Ziva Cancun
Above is a picture of one of the finalist couples from our Best Destination Wedding of 2017 contest, Jack and Frank. The wedding and romance department at Hyatt Ziva in Cancun always go above and beyond for their customers, making sure a destination wedding is truly unforgettable. At this adults-only resort, you're free to be yourself. Guests will love the all-suite accommodations, and the beautiful beach along the Yucatan Peninsula, away from the hustle and bustle of the Cancun strip. A wedding here could be one of intimacy for same-sex couples, the honeymoon bungalows are especially a treat. The wedding venues are gorgeous too, including a thatched gazebo that rests over the Caribbean waters. Plus, by booking your wedding at Hyatt Ziva Riviera Cancun with Destify, you may qualify for spa discounts or continental breakfasts in bed.
The Royal Hawaiian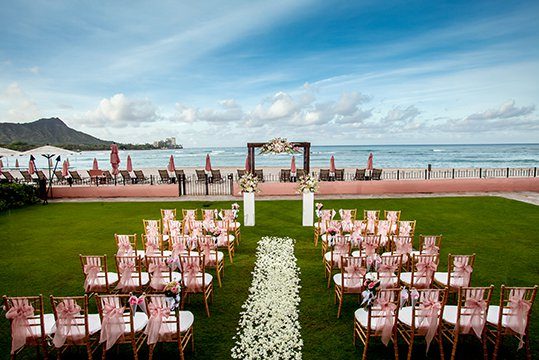 The Royal Hawaiian
The Royal Hawaiian, in Oahu, may be one of the most iconic hotels in all of Hawaii. Known as "the pink palace of the Pacific", at every corner you'll find elegant architecture amongst the bright facade of this historic 1920's resort. A destination wedding here could draw from the local Hawaiian culture. Guests will be treated to a welcome cocktail upon arrival, and daily hula lessons are available for the dancers amongst your group. Wedding venues include romantic gardens and ocean view terraces, and newlyweds can request romantic turndown service to make every moment special. Same-sex couples have nothing to worry about if they want to host a civil union following US regulations, and you can expect a gay-friendly atmosphere for the duration of your trip, along with exciting nightlife to explore in Honolulu.
Hard Rock Cancun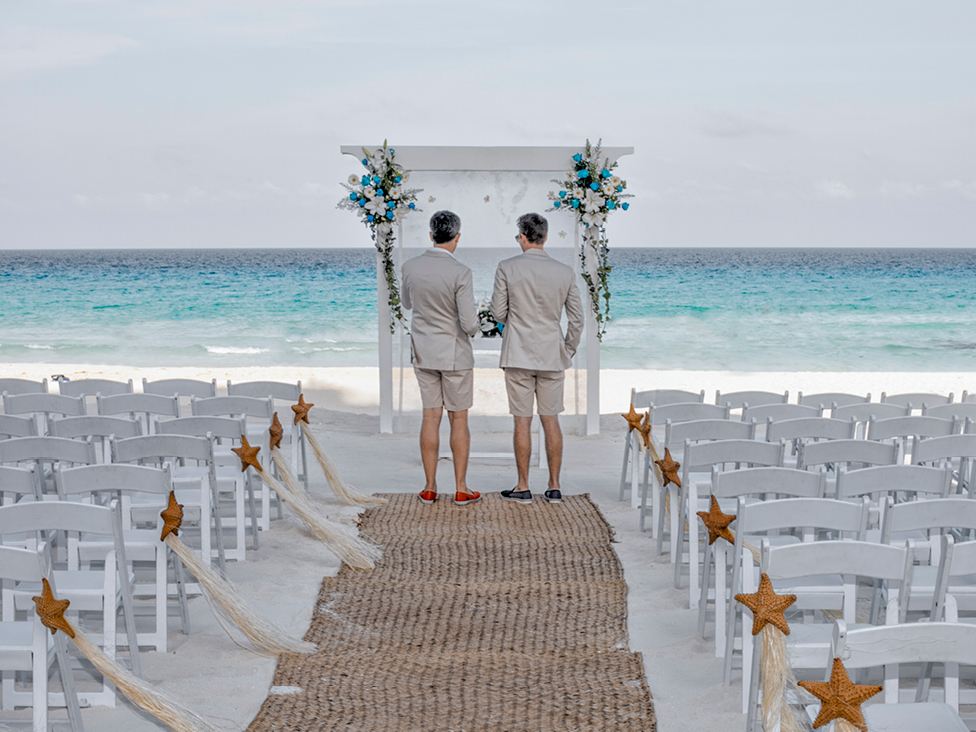 Hard Rock Cancun
For those couples who want to be near the action, consider the Hard Rock resort along Cancun's hip hotel strip. The skyscraper oozes luxury, with modern room accommodations and chic decor. Due to its central location, it's easy to party at the resort or take a short trip to explore downtown Cancun's exciting nightlife. Same-sex couples will love the responsive wedding department, and the wedding packages are designed by celebrity event planner Colin Cowie, offering as little or as much as you would like. LGBT civil ceremonies can be performed legally in Cancun, should you choose that route. Your guests will love the expansive beach and elegant pools to explore, and you can rest knowing that Hard Rock all-inclusive resorts are TAG (Travel Advocary Group) Approved, meeting all acceptance standards to ensure every customer receives welcoming accommodations and service.
Fiesta Americana Puerto Vallarta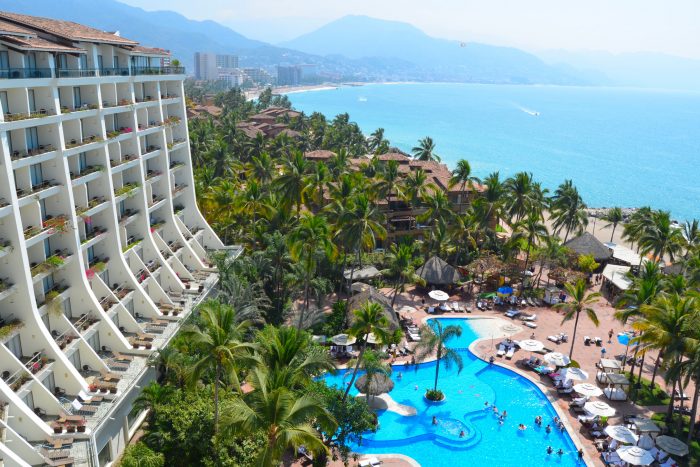 Fiesta Americana Puerto Vallarta
The Fiesta Americana all-inclusive resort, in stunning Puerto Vallarta, is a Pacific paradise located on Banderas Bay. Puerto Vallarta is famously nicknamed the "gay capital of Mexico" and guests will find numerous bars, clubs, gay beaches, and welcoming restaurants to explore in the area. The Fiesta Americana is close to it all if you choose to leave the resort, but you can also expect impeccable service and a welcoming attitude on-site, perfect for a romantic and modern destination wedding. You can also expect stunning photo opportunities amongst the upscale decor, directly influenced by the jungle surroundings and the tribal art of Mexico. You can even host your wedding ceremony on the Sunset Deck, a beautiful venue offering incredible views of the Pacific Ocean and the mountain ranges surrounding the resort.
Want to learn more about same-sex friendly resorts across the Caribbean, or are you interested in booking your very own destination wedding? Contact an agent today to learn more: