It's time to get into one of the most important parts of Mexico destination wedding planning. No, not which wine to serve to your wedding guests. While that's also crucial, many couples seeking a destination wedding in Mexico might wonder how much a ceremony and wedding week could cost. Here are some quick answers to shed some light on what kind of budget to consider while coordinating your dream celebration and:
Is it cheaper to get married in Mexico?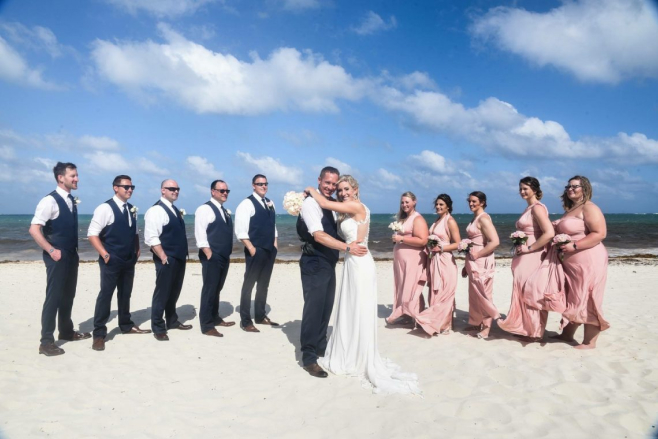 Short answer? It largely depends on which resort you get married in. In recent years, Mexico has developed into one of the most popular global wedding destinations. Accommodating the influx of tourists and wedding parties, hundreds of coastline resorts offer packages best suited for a variety of budgets.
Mexico destination weddings are doable no matter how much money you have to work with. For instance, many five-star resorts provide complimentary wedding packages teeming with similar amenities and add-ons that you'll find in more expensive bundles. So, regardless of whether you're staying in the Cancun Hotel Zone or in a secluded boutique property, there are wedding packages in Mexico for everyone's financial situation.
Where is the cheapest place to have a beach wedding?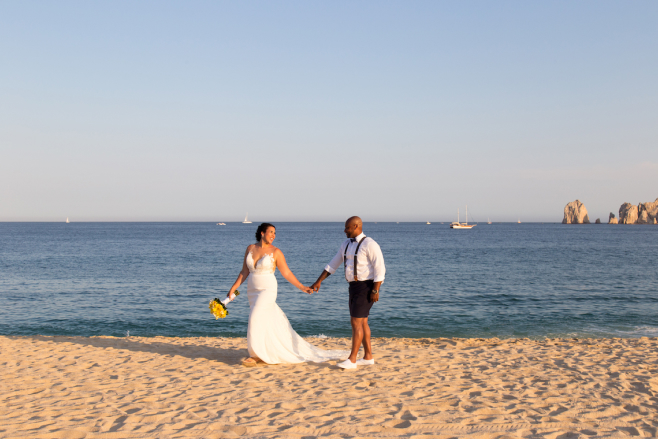 Beach weddings are a hot commodity nowadays, which is great news for you and your bank account. Many all-inclusive resorts have private beaches attached to the property, often promoting oceanfront venues in their complimentary packages.
Our suggestion: look for the one that's right for you. Whether you're gracing the sands of RIU Santa Fe or Royalton Riviera Cancun,you'll discover beautiful ceremony spaces infused with natural beauty and affordable inclusions. From 100% free spa services to your very own expert wedding planner, these all-inclusive destination wedding packages ensure your dream wedding.
Example Free Wedding Package from Majestic Elegance Costa Mujeres:
Majestic Elegance Costa Mujeres wedding planners
Ceremony venue
Room upgrade
Early check-in and late check-out
Services of a civil judge or priest
Wedding cake
Tropical bouquet and boutonniere
Bag of rose petals
Ironing of bride's dress and groom's tuxedo
Sound system and ceremony translation
Marriage certificate
Champagne toast
10% discount on hair and makeup
Handcrafted welcome sweets
Bridal boudoir refreshments
Semi-private dinner in a specialty restaurant
Romantic breakfast in bed for the couple
Romantic candlelight dinner for the couple
Complimentary couples massage
Two bottles of champagne in room during stay
Example Classic Wedding Package from RIU Santa Fe:
On-stie destination wedding team
Decoration set up for the wedding venue
Bridal Bouquet
Matching boutonniere
Recorded music during the ceremony
Semiprivate dinner at one of our specialty restaurants (just for the couple)
Wedding cake (just for the couple)
Sparkling wine during the main toast (just for the couple)
Special decoration in the room
Witnesses if required
Minister/Judge service
Marriage Certificate
Spa Surprise gift
10% discount in all Spa treatments for the Wedding Couple
Example Luxury Wedding Package from Royalton Riviera Cancun:
Personal destination wedding planner & onsite coordinator
VIP welcome & late checkout for bride & groom (based on availability)
Bride & groom room upgrade (based on availability)
"Getting Ready" refreshments & fruit platter for the bride & groom on the wedding day
10% discount on spa services for entire wedding party
Wedding ceremony location
Symbolic ceremony
Chairs included
Sound system for ceremony
1 tropical bridal bouquet
1 tropical groom's boutonniere
Ceremony table with linen & tropical centerpiece
Sparkling wine toast
Semi-private dinner at one of our restaurants (2 hour)
Personalized menu cards
1-tier wedding cake
How much is a destination wedding in Cancun vs. Cabo?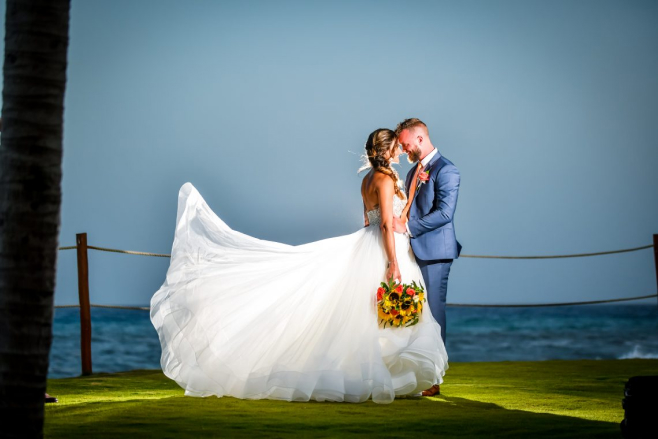 The Hotel Zone or Medano Beach? Both charming coastal hubs are at the forefront of modern tourism, complete with stunning locations and wedding venues. With seemingly endless options to choose from, where should you go to save the most money? Let's break down the tropical paradises:
Wedding Packages (Prices vary depending on wedding package)
Cancun: Free – $11,999; based on a compilation of various resort wedding packages
Los Cabos: Free – $11,150; based on a compilation of various resort wedding packages
Example Intimate Elegance Wedding Package from Panama Jack Cancun:
Symbolic marriage ceremony and certificate by a bilingual secular officiant
Bridal bouquet and groom boutonniere
Sparkling wine toast after the ceremony (for up to 10 guests)
Signature wedding cake
On-site services of a professional wedding specialist
Beachfront couples massage
Romantic beachfront dinner for two
Free if the couple books 25 room nights or more (3 night minimum per room)
Example Sweet Romance Wedding Package from Sandos Finisterra Los Cabos
Symbolic ceremony
Ceremony setup as per resort location
Wedding locations of choice
1 medium-sized flower medallion
Sound system and a microphone during the ceremony
1 bouquet and 1 boutonnière, or 2 bouquets, or 2 boutonnières
Private cocktail hour with open bar (duration: 1 hour)
Private dinner reception with open bar (duration: 3 hours)
Basic setup and ambient lighting
Sparkling wine for the wedding toast
2 tier custom made wedding cake
2 centerpieces
Sound system with microphone during dinner (duration: 3 hours)
Wedding organization and personalized service from our wedding coordinator
1 make-up and 1 hairstyle (excludes trial) at the Sandos Spa
Commemorative certificate in the form of the "Sandos Wedding Tree"
Couple's massage at the Sandos Spa (duration: 25 minutes)
Upgrade to the next available room category for the couple
Complimentary honeymoon amenities
Resort Costs (Prices vary depending on suite type)
Cancun: $160-$310 price per person per night
Los Cabo: $110-$270 price per person per night
Excursions
Cancun: The Hotel Zone, Maya ruins, snorkeling, scuba diving
Los Cabo: Medano Beach, world-renowned nightlife, zip-lining, ATV courses
While there are some differences between Cancun and Cabo, there actually isn't too much contrast money-wise. Realistically, you'll find cheaper resort options in each city. It all comes down to which wedding packages catch your eye more, as well as which excursions you want to include in your itinerary (these are optional for guests of course).
In comparison to other popular destinations such as Jamaica and the Dominican Republic, Mexico showcases similar wedding options, but with more flight options from across the United States. Although some accommodations may range in price, Mexico destination weddings are quite cost-effective, featuring quotes perfect for your preferred budget. So whether you're seeking a majestic oceanside ceremony or a lush garden wedding, Mexico will deliver an unforgettable experience at digestible prices.
Want to learn more about our top Mexico wedding resorts? Follow the button below to discover majestic five-star properties: