Hawaii offers an ultimate luxury destination wedding option, and stateside guests won't need a passport in order to attend. From the shores of the Big Island, and famous Waikiki Beach, to the more remote 5-star offerings of Lanai, Hawaii offers a variety of environments ideal for your wedding ceremony. Follow below as we explore Hawaii wedding resorts:
Sheraton Kauai Wedding Resort
Kauai, Hawaii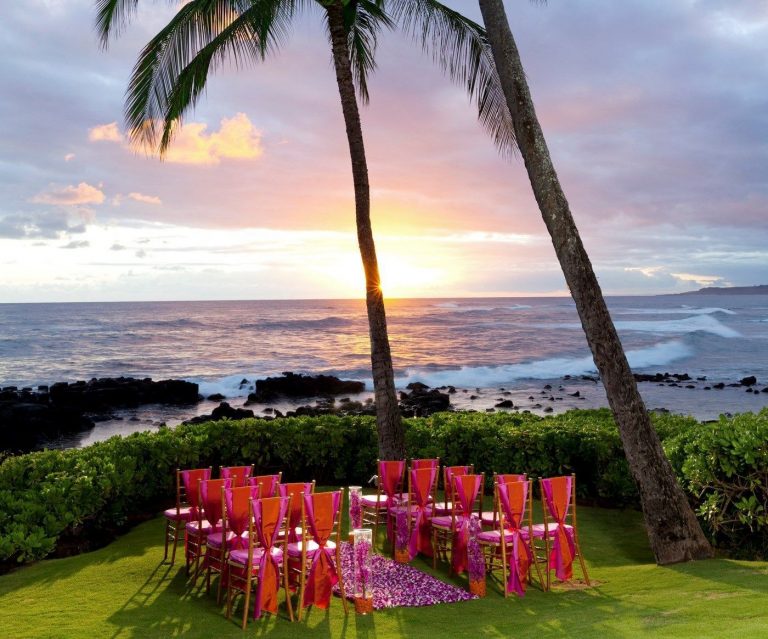 Sheraton Kauai
Resting on a secluded cove amongst the famous Kauai island is the Sheraton Kauai wedding resort. Located on 20 acres of beautiful oceanfront, guests will be enthralled by the views, and nearby they can explore Poipu Beach. The Sheraton resort collaborates with an on-island wedding team, so you'll have a dedicated staff who can offer insider knowledge as you plan your decor and choose your ceremony venue. A big draw to this resort is the easy access to calm waters just steps away, ideal for snorkeling or surfing lessons.
Hilton Waikoloa Village Resort
Big Island, Hawaii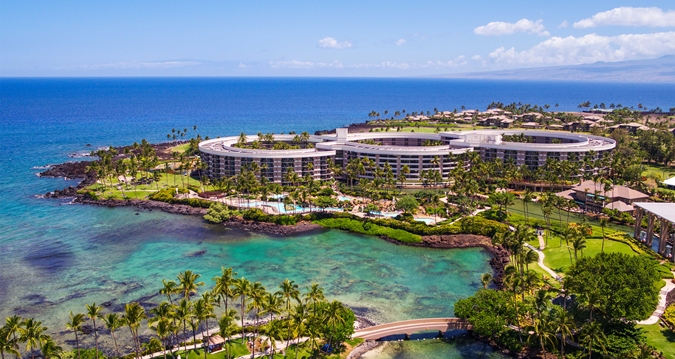 Hilton Waikoloa
The massive Hilton Waikoloa resort has the word "village" in its title for a reason, and its often nicknamed the "Disneyland" of the Big Island. This premier wedding destination has numerous ceremony venues to explore, and there's even a unique boat journey that can take guests from one end of the resort to the other. This resort offers the perfect mixture for couples, who may want to explore the natural splendor off-site, or simply stay at the resort to enjoy everything it has to offer.
Four Seasons Lanai
Lanai, Hawaii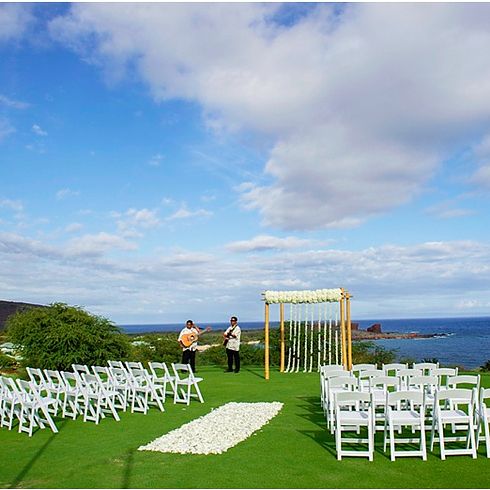 Four Seasons Lanai Resort
For couples who have the maximum budget for their destination wedding, consider the Four Seasons Lanai wedding resort, offering every luxurious detail you could want. The Four Seasons brand is reputable, featuring everything required of a true 5-star resort. The wedding won't be cheap, and neither will the cost of travel or the room rates, but what's included is a truly unforgettable location, resting on multiple acres which emit the feeling of having your own private island to explore.
Turtle Bay Resort
O'ahu, Hawaii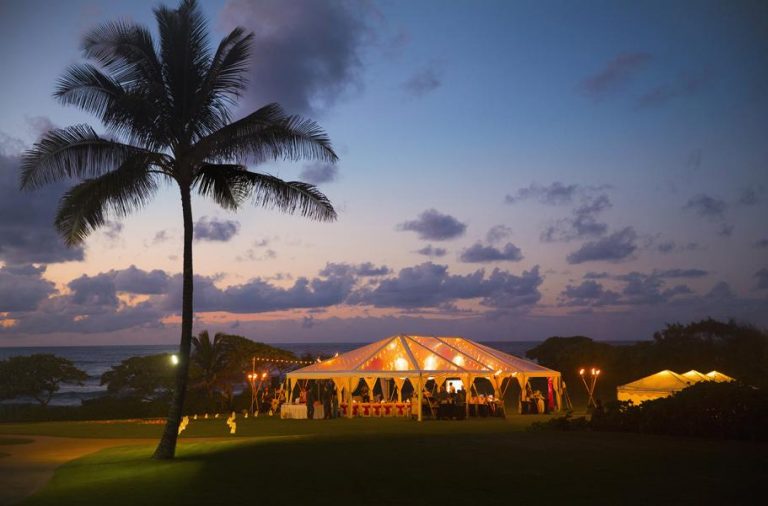 Turtle Bay Resort
Guests need not leave the grounds of the Turtle Bay Resort in order to find adventure around every corner. From horse stables and infinity pools to a private peninsula offering the best views of O'ahu, there is simply so much to take in. Wedding couples will find a lot to enjoy as well, from complete wedding packages that include both the ceremony and reception (rare for Hawaii), to more venues then you can count on two hands. Plus, no romantic stay is complete without booking one of the intimate bungalows, featuring chic Hawaiian beach decor.
Wailea Beach Resort
Maui, Hawaii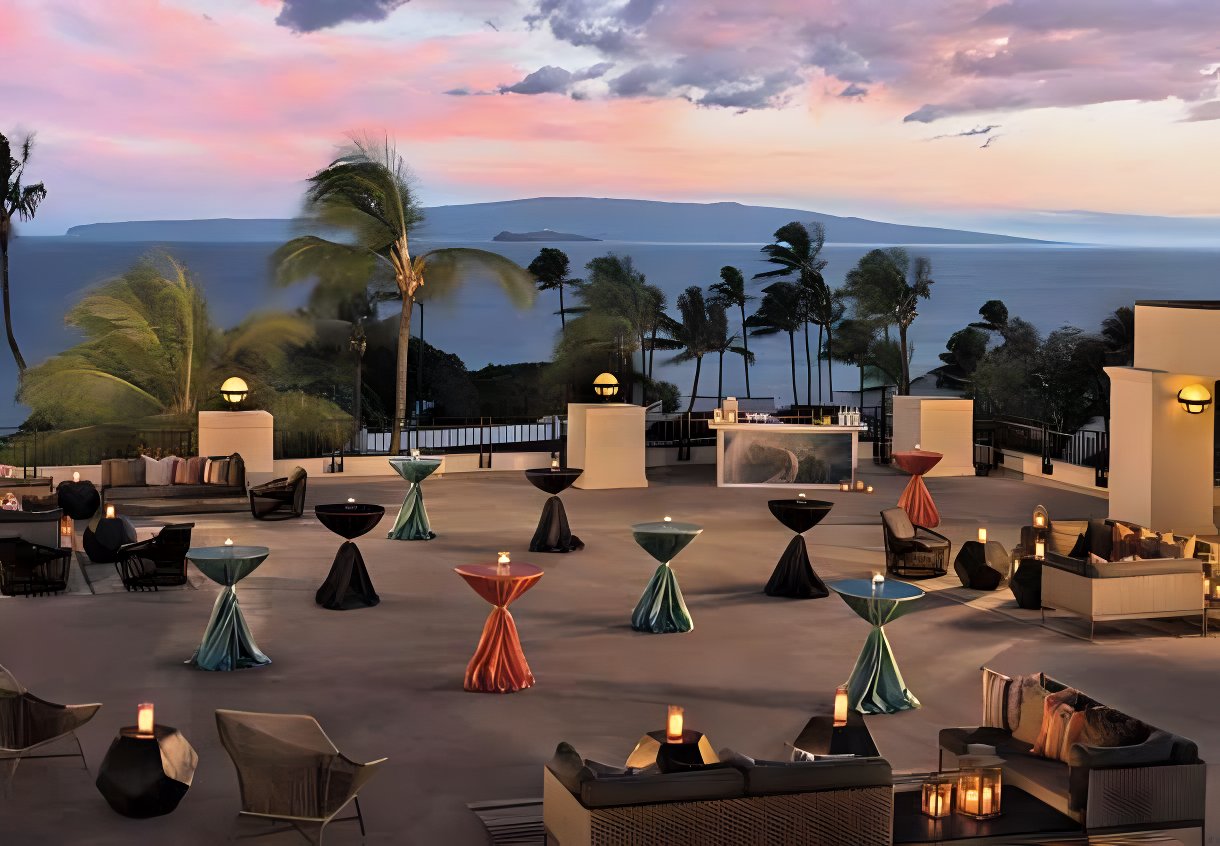 Wailea Beach Resort
Maui is perhaps the most famous of all the islands, thanks in part to the numerous celebutants that have frequented it over the years. Feel like socialite royalty yourself, by hosting your destination wedding at the Wailea Beach Resort, situated on 22 acres of lush greenery. From the stunning ocean cliffside views to the five scenic pools to enjoy, there is just a serene vibe that's unmatched here. Wedding packages include aisle petals and a traditional lei exchange. There are 7 venues to host your wedding at, like multiple oceanview lawns, or even the North Koi Pond, which would include a few extra fishy guests for your ceremony.
Want to see what all of the islands have to offer for your destination wedding to Hawaii? Click the button below to begin exploring: