As the fastest growing section of the wedding industry, destination weddings are drawing an extreme amount of interest from couples who wish to break the mold for their wedding. Destination weddings for large groups are not only common but entirely doable, with less stress and coordination then you might ever think! And the prices are that much more affordable than a stateside local wedding too. Follow below for our tips on destination weddings for large groups.
Determine Your Group Size
A loose count for a 'destination wedding large group' is 50 guests or more. This means you'll require an all-inclusive resort with at least double that size in available rooms, as you won't want any chance your resort of choice may sell out before guests can book. Our general rule of thumb for our groups is to book with at least 6 months in advance, and wedding guests can place their deposit down in order to lock in their room rate.
Just because you're at a large resort, it doesn't mean you can't find moments of intimacy. Many of our most popular wedding resorts feature private event venues where you'll be away from the other resort guests. Consider the Secret Garden at Dreams Tulum, or a sky deck like at AZUL Beach Riviera Cancun, where you'll be up above the general resort grounds. Your resort may offer adults-only sections too, or preferred clubs, where guests will have access to private pools, bars, and even restaurants the standard guest rooms don't have access too.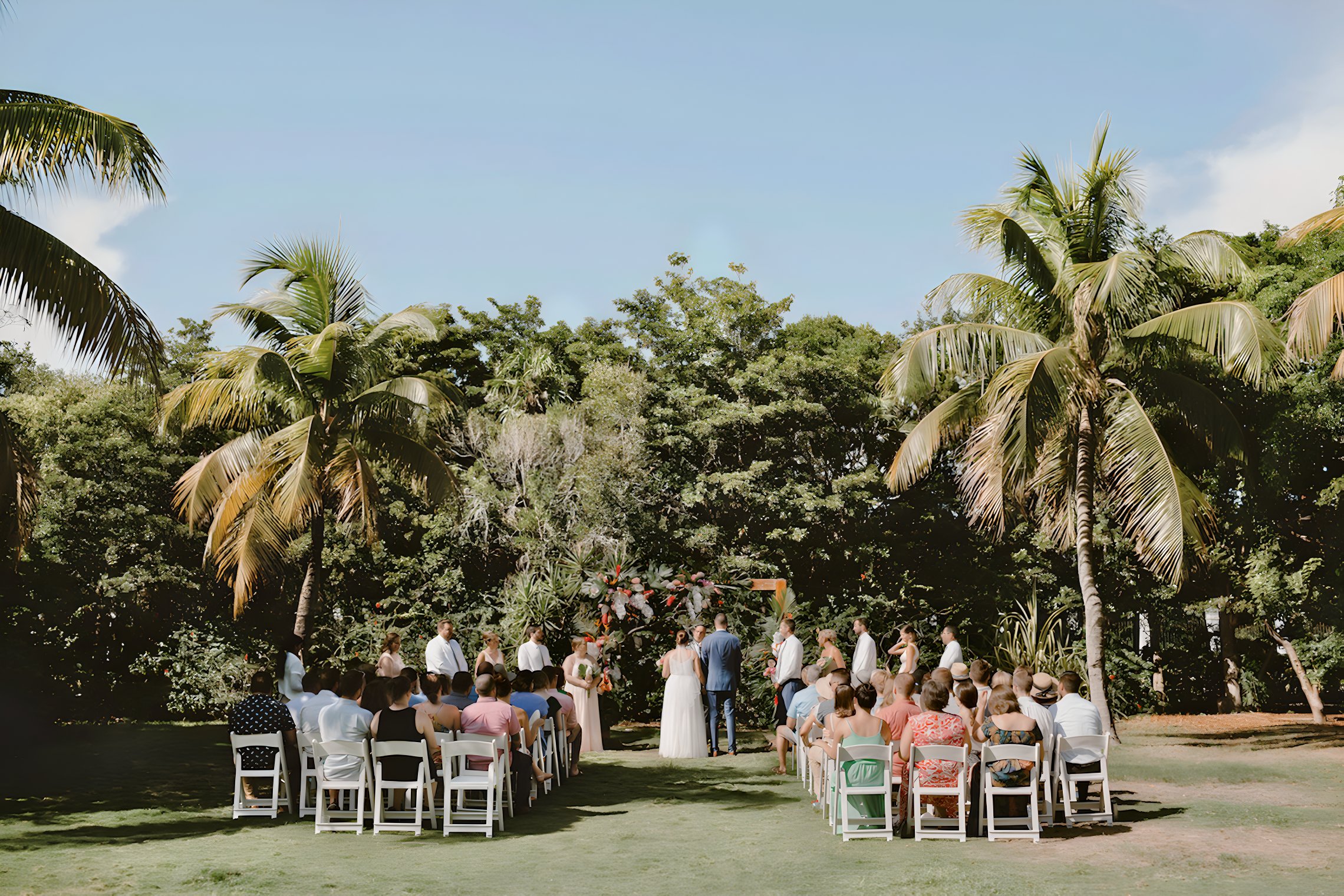 The secret garden at Dreams Tulum.
Destination Wedding Packages for Large Groups
Not all wedding packages are created equal, and extending your guest capacity beyond your wedding package's number of guests can add up quickly. We'll go over that in finer detail later. When you're booking a resort, take a look at the wedding packages so you can find one that will fit your group, at the largest you envision it. With destination weddings, guests will drop off due to the cost of travel, but you'll still want a package that includes them just in case.
When a package includes a certain number of guests, that's accounting for their placement (seats, decor, food, etc.) at both your wedding ceremony and reception. A great example of a welcoming resort for destination weddings for large groups includes the family of Dreams resorts. Their "Beyond Memorable" package welcomes 50 guests at $7,500 and up to 100 guests at $11,999 and includes just about every bell and whistle you can imagine for your wedding ceremony, from private events to a complimentary anniversary stay.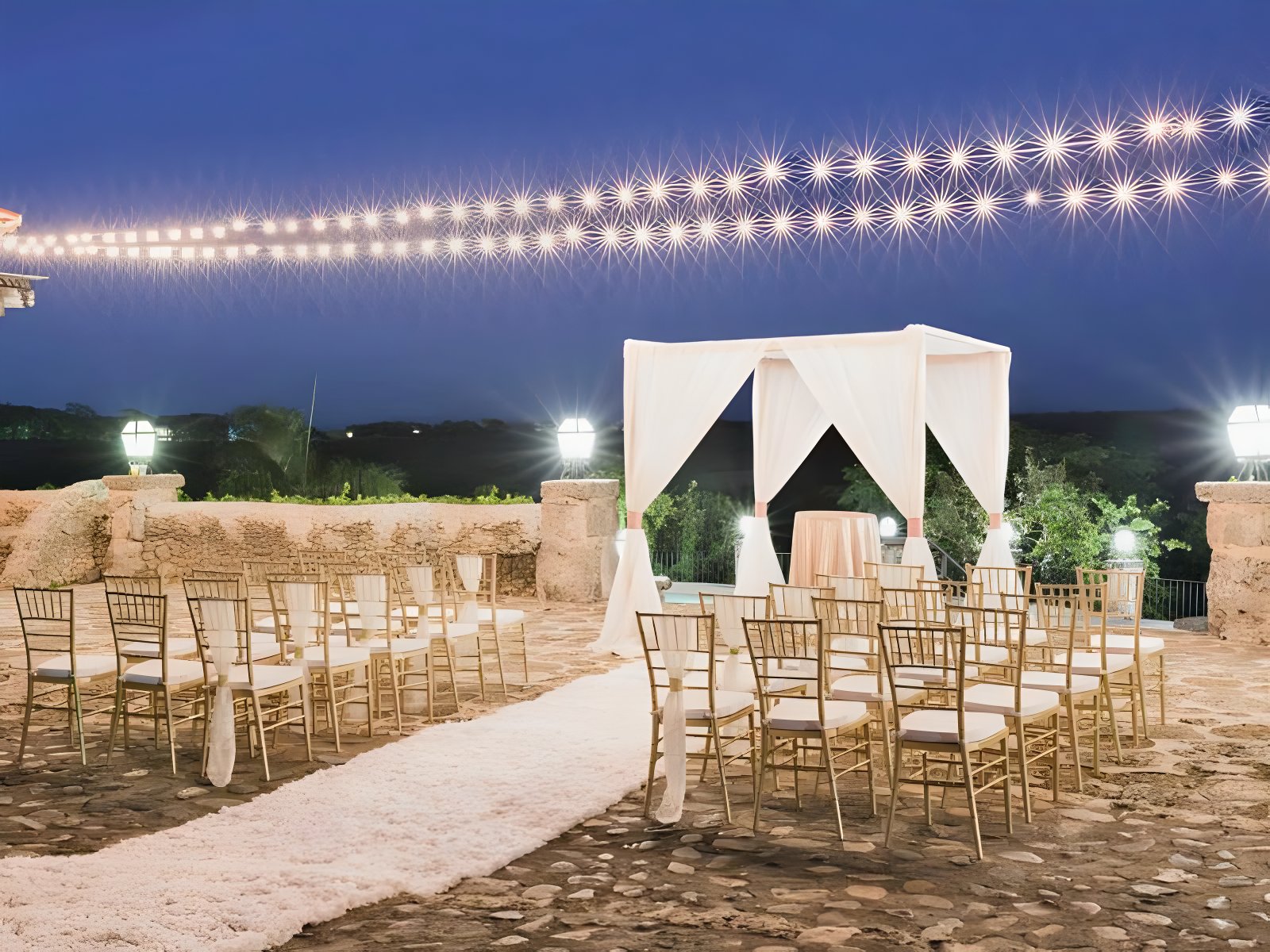 Group Perks and Free Wedding Events
With these destination weddings for large groups come numerous perks and free wedding events you may qualify for. By booking through one channel your group may qualify for free cocktail hours, upgraded rooms, excursions, or even free rooms too. Larger wedding packages may automatically qualify your group for a private reception over a semi-private reception.
The more you book, the more you'll receive. With your group perks, you could receive a dinner rehearsal included, or a welcome party on the night the majority of your guests arrive, the perfect icebreaker for family members and friends who don't know each other yet.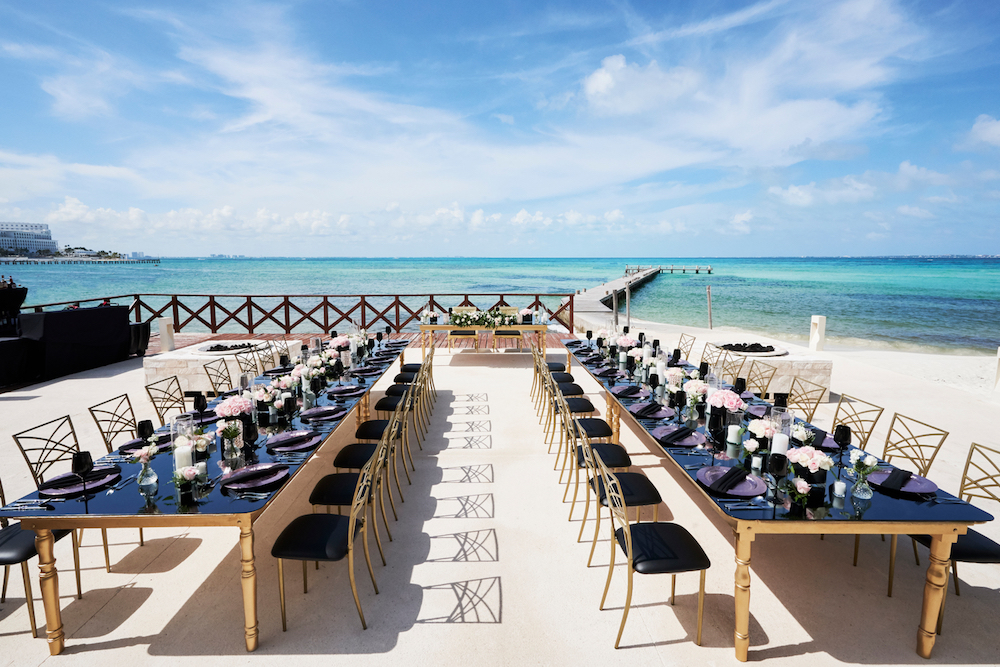 You may qualify for a free private reception.
Additional Costs and Strategies
As we mentioned, if you go beyond your wedding package's initial capacity, the cost per guest could really add up. Some resorts welcome them at affordable rates, simply paying around $11 per extra chair. Others may require much more than that, as the cost covers not just their placement at your ceremony, but their food and drinks and the service they'll be receiving from staff too. If you want decor beyond what your package includes that will cost extra. So will any live entertainment or reception upgrades you would like to add, like light-up dancefloors or fireworks.
Do your due diligence ahead of time with your destination wedding expert, who will provide both wedding packages and wedding resorts for your large group. Avoid contracts unless your resort requires it, as this could leave you with hefty fees if guests are unable to make it. Lastly, for destination weddings for large groups that desire a weeklong stay filled with fun activities (and free perks), compare which resorts offer you the most for your group size.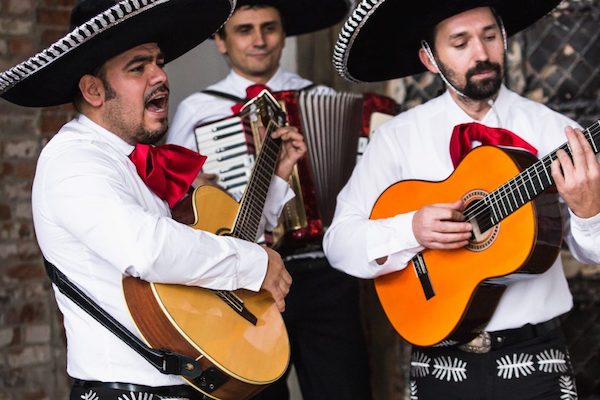 Ready to check out some resorts? Click the button below to get started exploring our destinations: