Hey, 2020…we made it! We really made it! Let's take a step back and take a couple of deep breaths. So here we are, celebrating a new year, dusting off from an eventful 12 months. Here at Destify, we're keeping the cat cameos in our video calls, binging on our favorite streams, and we're definitely continuing our ugly coffee cup contests. Most of all, we've absolutely loved connecting with all our clients and their loved ones. Through months of uncertainty, it has been inspiring to see our communities jump to action, supporting each other and local businesses. We are constantly impressed by the creativity and magic we get to witness and be a part of your most important dream. So, there are still so many wonderful experiences for 2021, and we can't wait for the future!
The Return of Wedding Resorts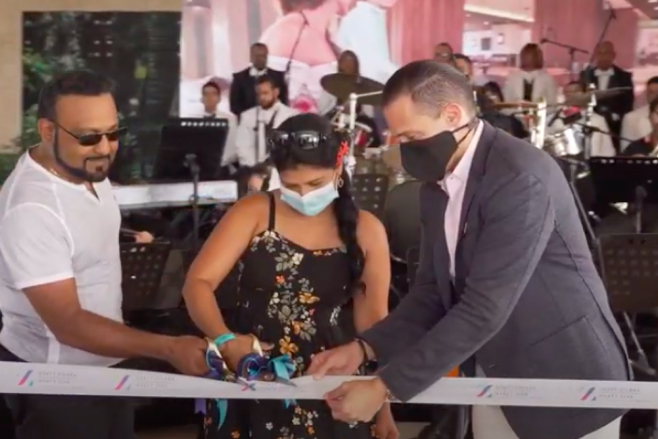 2020 tested the strength of our favorite wedding resorts. From the white sands of Punta Cana to the shimmering waters of Los Cabos, top-tier properties across the Caribbean closed their doors in response to the crisis. But through it all, they persevered. After three months of careful monitoring and planning, Mexico's most popular resorts welcomed us back into their tight-knit family on June 10, 2020.
Recognizing optimal guidelines and protocols approved by the World Health Organization, the World Travel & Tourism Council awarded the region the International Safe Travels Stamp, deeming certain world-class resorts and local attractions ready for service. With most of our favorite destinations still abiding by stay-at-home orders, Quintana Roo was the first tourist area in the entire world to receive this valuable stamp.
Since then, sun-soaked locations such as Royalton Bavaro and Dreams Tulum have greatly improved their resort safety measures right down to the water cups. As highlighted in our Resort Safety Measures Guide, commonly added measures include new sanitizer stations, added cleaning schedules, complete sanitary wipedowns frequently and regularly, and new social distancing restrictions enacted for guests' comfort. Equipped with these health-conscious standards, our favorite resorts continue to guarantee a safe and luxurious stay in paradise.
The Destify Couples of 2020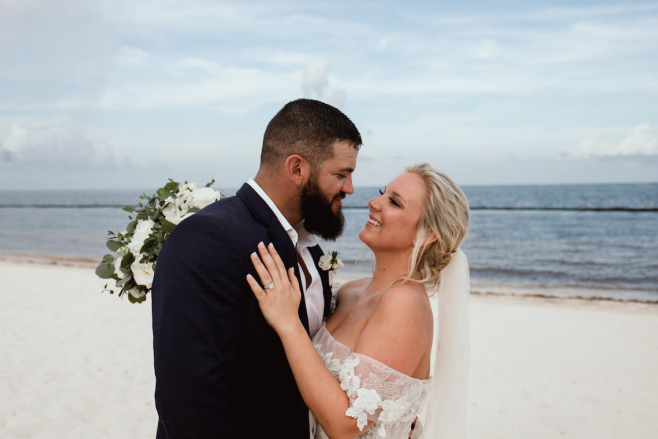 While 2020 featured tribulations like none other, we still came through for our beloved guests, creating meaningful memories via friendly and punctual service. Through the good, bad, and ugly, our Destify Couples found solace in the enchanting destination weddings we planned together. And while the weddings were paused, we gave away some trips to First Responder's working directly on crisis efforts. Let's take a look at a few of our favorite stories that made our 2020 brighter:
Chavisse and Chavonna's Wedding at Hard Rock Punta Cana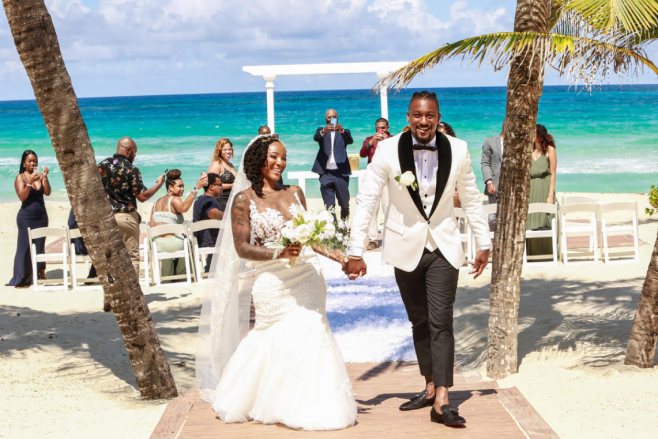 Working with Destify helped Chavisse and Chavonna plan a wedding that was uniquely theirs. From venue shopping to website crafting, the couple's Destify agent, Alison, helped build a strong foundation for the wedding. The couple was grateful for Alison's personable services and consistent communication. Chavonna said, "I can not begin to express how professional Alison was, all while being a friend at the same time."
The wedding was held on an immaculate afternoon at 1pm at the Hard Rock Punta Cana's Harmonica Beach venue. Surrounded by close friends and family, the couple tied the knot overlooking shimmering waters. After taking pictures, the newlyweds hosted a radiant reception in one of the resort's most elegant spaces. With a personalized playlist and professional DJ on hand, the couple and their guests enjoyed a night of dazzling inclusions.
"The entire wedding was a favorite and will never be forgotten. October 20th.2020 will forever be one of our favorite memories."
Jherricka and Tye's Wedding at Secrets Cap Cana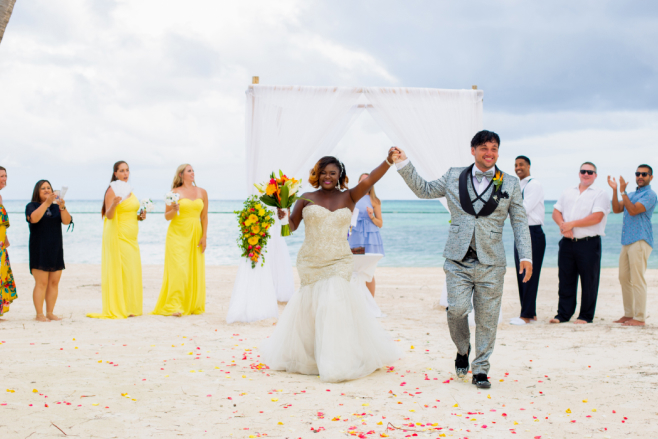 Jherricka and Tye chose Secrets Cap Cana, an adults-only resort on the Punta Cana coastline. Desiring a relaxed Dominican Republic wedding, the couple fell in love with the property's tantalizing seascapes. Working with Destify was incredible before and during the pandemic despite the trouble.
The wedding was held on a cloudless Saturday afternoon at 5pm at a sun-soaked beach venue. An intimate wedding of 10 guests, the ceremony was graced with a mouth-dropping rainbow during the proceedings. The reception followed shortly after at the top-rated El Patio, where an extraordinary night awaited the party. The newlyweds truly appreciated their photographer and said, "We were very pleased with their services and ability to create such a meaningful collection of photos from our special day."
"She went above and beyond to make our day be as perfect as possible. When we finally made it to the resort, it never felt stressful with her guidance."
Hannah and Ben's Wedding at Dreams Riviera Cancun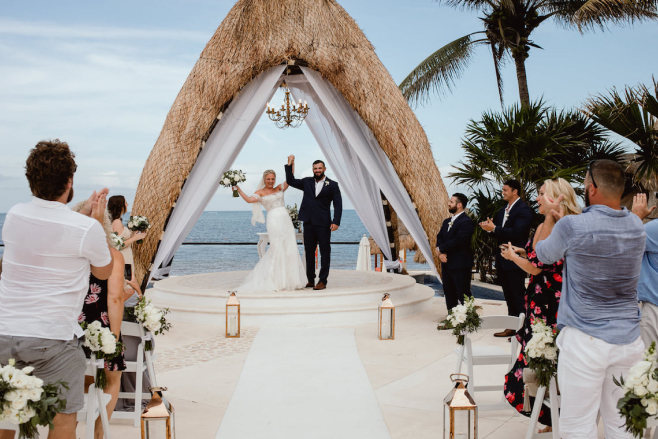 The couple chose Dreams Riviera Cancun after googling different wedding venues across the Mexico-Caribbean. Hannah and Ben were instantly hooked on photos of the resort's gorgeous wedding gazebo, a large thatched palapa-like structure. Working with Destify, and their agent Cassandra, proved to be great. Making travel arrangements were simple, and despite having to postpone due to COVID, Cassandra was able to transition everything over in less than a day.
The wedding was held on Saturday with a ceremony at 5pm at the trademark gazebo. The couple took photos and then met their guests at the cocktail hour afterward, featuring a Mexican Musician Trio playing live instrumentals. A reception followed from 630 – 11pm and was perhaps the couples' favorite venue of the week for it was private and away from other resort guests, but still right on the beach.
"Everything was perfect and we had the time of our lives from start to finish."
Jasmeka and Sylvester's Wedding at Royalton Blue Waters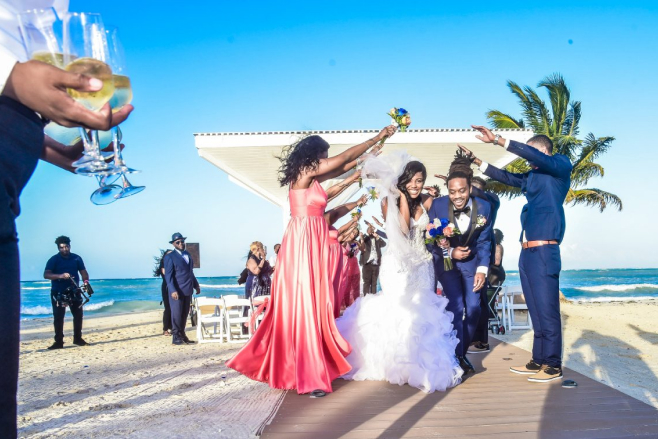 Jasmeka and Sylvester agreed that the planning process was simple and stress-free while working with their Destify agent Lauren. Handling the bulk of the coordination, Lauren delivered essential information and research ranging from suite rates to recommended venues, nurturing an open line of strategizing. Jasmeka said, "We didn't need to manage a thing, Lauren took care of us and was on top of everything."
Before their wedding day, the couple hosted a private rehearsal dinner with family and close friends at one of Royalton Blue Waters' world-class restaurants. On the day of their ceremony, Jasmeka and Sylvester tied the knot under the handcrafted beach gazebo, overlooking the calming waves of the Caribbean. From there, the newlyweds invited guests to a ravishing beach tent reception, featuring delectable dishes, professional DJs, and a selection of gorgeous photo ops.
"Just pack your bags and go. It's a once in a lifetime opportunity, and having a wedding service really helps you soak up the moment."
So, as we kiss 2020 goodbye, let's say hello to 2021 and all of the magnificent getaways that await us! Whether we're sipping cold drinks under a Bali bed or tying the knot with our partner overlooking azure waters, 2021 will be filled with the finest paradise dreams actualized at last. And what about us at Destify? Well, we'll be right there with you, planning and creating meaningful memories that'll last a lifetime, all with joy in our hearts and smiles on our faces.
Check out more of our lovely Destify Couples from 2020 and years past via the button below!
Happy New Year's! 🎉