We've got a secret – there are still all-inclusive resorts with availability for 2023 destination weddings!
2023 is just a month away, but that's old news in the destination wedding world. We at Destify are already looking ahead and securing 2024 destination weddings.
If 2023 is your year to tie the knot, don't feel tangled up by the lack of available properties. 
We've got the inside scoop on 5 all-inclusive resorts with availability in 2023.
Read on and book your dream 2023 destination wedding before it's too late!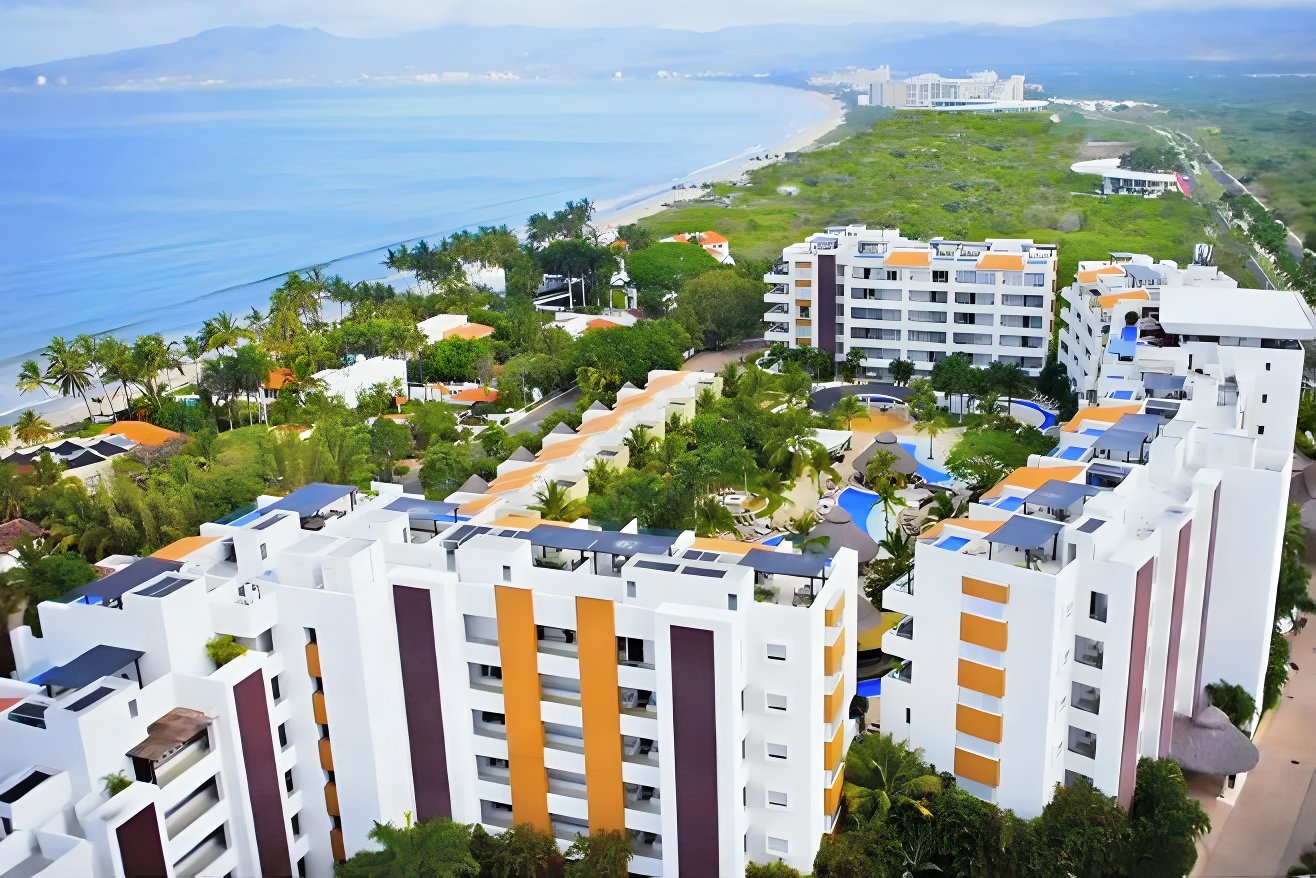 Psst! Over here!
Our first resort with availability in 2023 is Marival Distinct. 
Marival Distinct is in Puerto Vallarta, a seaside town much less touristed than the lively Cancun. Puerto Vallarta is known for its lovely beaches, nightlife scenes, and historical monuments. 
Marival Distinct has swiftly become one of Destify's favorite resorts and a well-kept secret, especially with so many other popular properties fully booked for 2023 destination weddings!
Marival Distinct provides visitors with several distinctive features, including ample apartment-style accommodations. These large rooms have living spaces, full kitchens, and up to four bedrooms. Some of them even have private chefs and swimming pools!
This seaside paradise is also home to several gourmet restaurants. Make sure you stop for casual, locally sourced snacks and to sample some of their stellar wine. Their bottles are kept in a transparent cellar, making choosing your bottle a fun experience itself!
Resort Features:
24/7 room service

2 Pool

2 Open Bars

4 Restaurants

Private beach club, with a restaurant.

Large pool with ample lounge areas, plus adults-only and kiddy pools.

Flat-screen TVs with premium satellite channels.

Pod docks and CD players.

Rooms have private balconies with ocean, pool, or garden view.

All-inclusive or European plan options.

Immaculate spa with unique treatments.
Wedding Date Availability Marival Distinct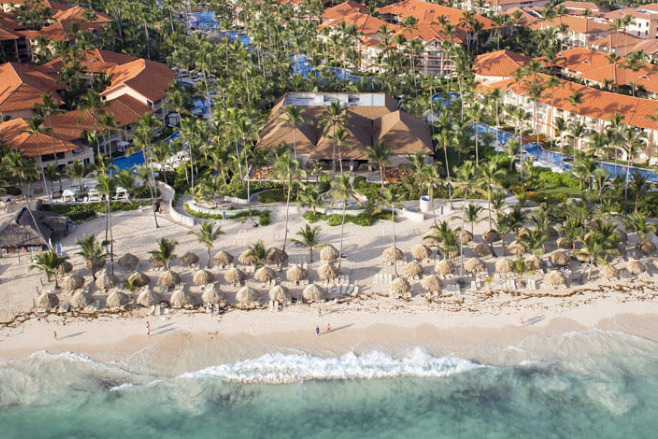 Majestic Elegance Punta Cana offers incredible views of the expansive and beautiful Playa Bavaro beach.
Would-be spouses looking to tie the knot in paradise will be very happy here. With unspoiled beaches, swaying palms, clear skies, and tropical breezes, Majestic Elegance Punta Cana sets the stage for the platonic ideal of a beach wedding!
In addition to the unrivaled beauty of the surroundings, Majestic Elegance Punta Cana provides a contemporary paradise of services and facilities.
Manicured grounds, a 985-foot lagoon-style pool, modern suites, and excellent gourmet restaurants like the vibrant seafood of See & Sea are just a few of the incomparable amenities.
Despite not being an adults-only resort, Majestic Elegance Punta Cana is a fantastic choice for younger groups without young children because of the outstanding Colonial Club. 
This exclusive area has more than 300 suites with upscale amenities and services, including two private pools, the delectable "Le Gourmet" restaurant, and access to the VIP Lounge.
This amazing resort still has availability for 2023 destination weddings, so keep this open-secret under your hat and book while you still can!
Resort Features:
24/7 room service

16 Bars 

7 Restaurants

9 Pools

Live music in the Plaza bar every evening

Free entrance to Coco´s nightclub. Drinks included

 Pickleball court, with free group lessons and private lessons ($) available
Wedding Date Availability Majestic Elegance Punta Cana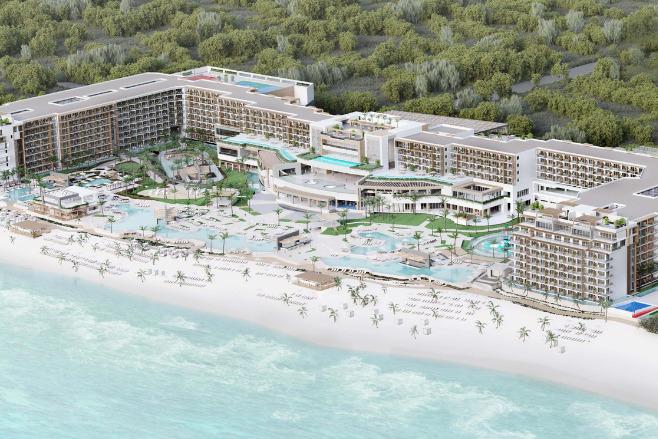 This resort has undoubtedly made a splash, but it hasn't made waves just yet this year — after all, Royalton Splash Riviera Cancun still has availability for 2023 destination weddings!
Royalton Splash Riviera Cancun is a bombastic and fun all-inclusive property, making it an excellent resort for families, large wedding parties, and couples looking for a wedding, honeymoon, and a nonstop fun vacation all in one!
And what's all this fun we keep mentioning?
How about an onsite water park with 14 waterslides, two lazy rivers, a bowling alley, a laser tag court, a trampoline park, and so much more!  
For people with children or couples who are kids at heart, Royalton Splash Riviera Cancun is an all-inclusive playground in paradise.
Make sure that you reserve your ceremony at one of the gorgeous sky-level venues, like the Sky Terrace or the Grazzie Overview Terrace. 
Saying 'I Do' on your wedding day while almost being able to touch the Caribbean sky? Does it get more romantic than that?
Resort Features:
24/7 room service

10 Bars 

12 Restaurants

11 Pools

Water park

Indoor trampoline park

Bowling and laser tag

Sports and fitness facilities
Wedding Date Availability Royalton Splash Riviera Cancun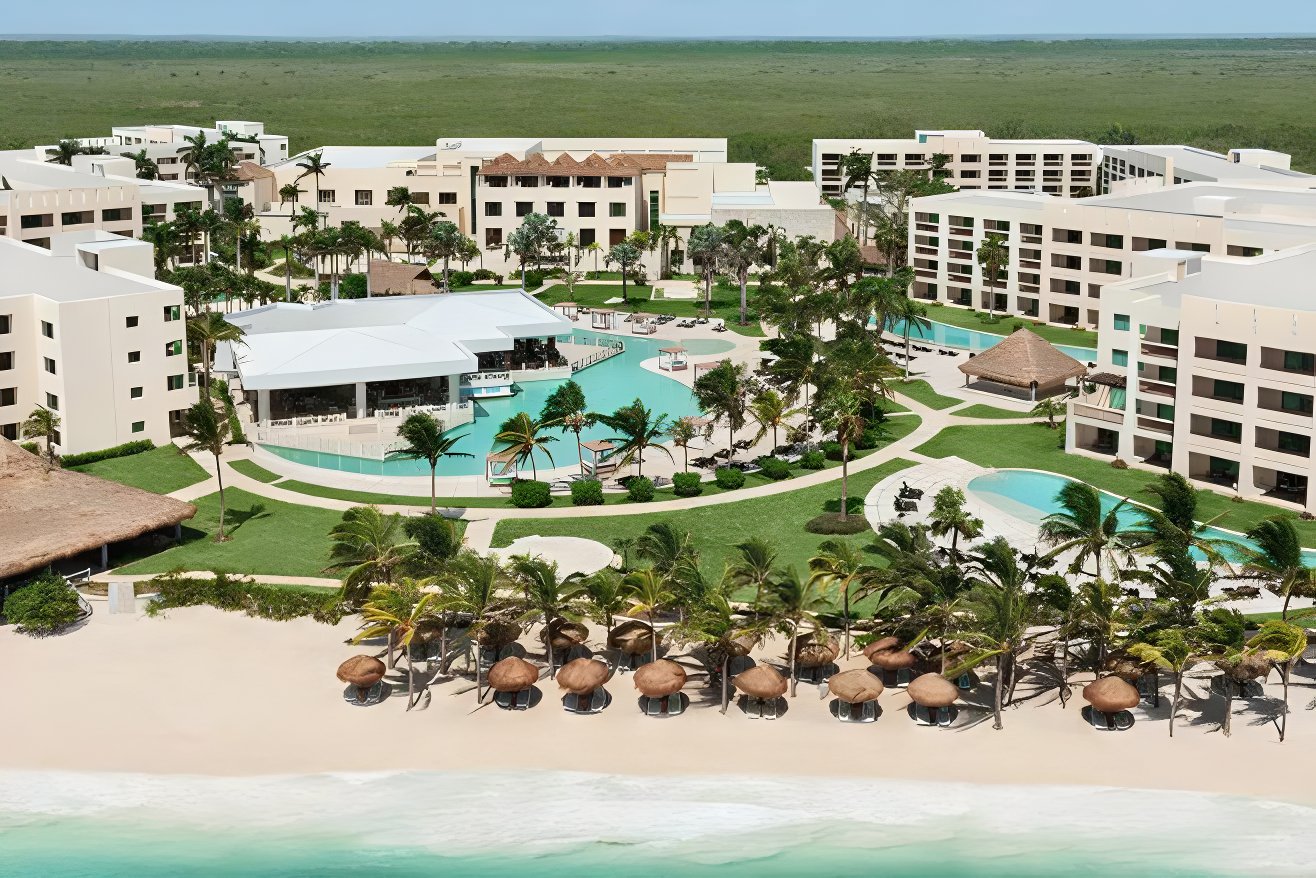 Now, this one's a big secret, so make sure you book this popular resort before the word gets out!
We've sent thousands of couples and their guests to idyllic destination weddings in paradise. And in that time, Playa resorts have become some of Destify's favorite properties. 
Hyatt Ziva Riviera Cancun is a great example of why we love sending spouses-to-be to Playa properties. We've already booked hundreds of 2023 destination weddings at Hyatt Ziva Riviera Cancun!
Situated by the blue seaside of the famous Yucatan Peninsula, Hyatt Ziva Riviera Cancun is a fusion of gorgeous natural sights, all-inclusive amenities, and wedding coordinators and wedding planners dedicated to ensuring every detail of your destination wedding go off without a hitch.
You have to book the revered Over-Water Gazebo for your ceremony. Tons of our guests and their wedding parties were enchanted by the lapping blue waves and the tropical breezes that kissed their faces moments before they smooched their new spouse!
With some amazing activities and facilities like an oceanfront water park, a kids-only entertainment club, a tranquil spa, and wine-tasting sessions, couples and their groups will have plenty to do after your big day!
And with wedding packages ranging from $2,039 to $11,944, Hyatt Ziva Riviera Cancun offers some of the best Mexico wedding packages in 2023.
Resort Features:
24/7 room service

9 Pool

7 Bars

8 Restaurants

High-tech fitness center

Coffee café

Oceanfront water park with multiple slides

Two-story Zen Spa spanning 16,168 square feet

Complimentary Wifi
Wedding Date Availability Hyatt Ziva Riviera Cancun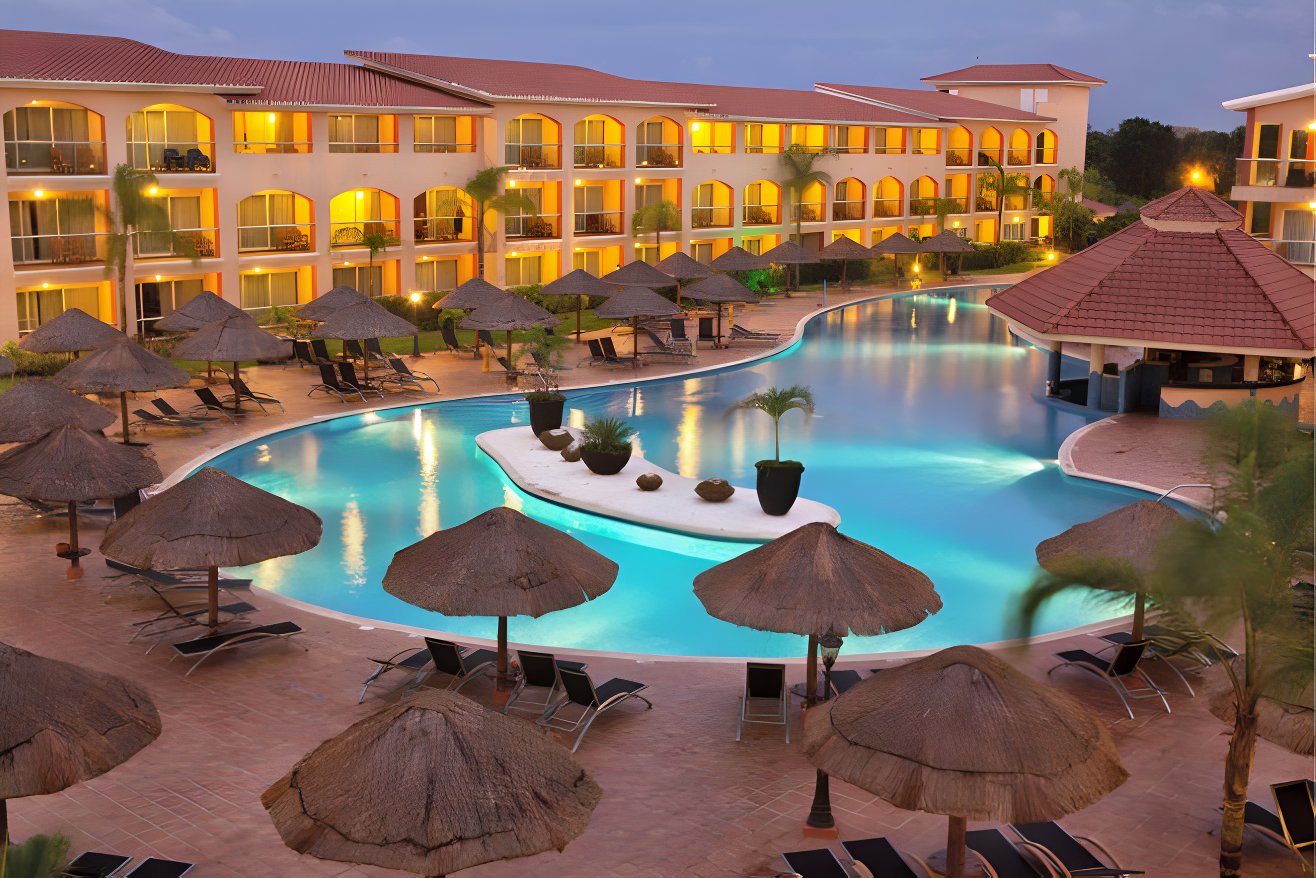 Riu resorts are another of our most popular destination wedding partners!
They have dozens of properties that have been the home to Destify destination weddings in Mexico, Jamaica, DR, and many more tropical havens. They're dedicated to providing luxury accommodations at affordable price points, making them an excellent choice for budgets of all kinds. 
Located on Negril's West End, Riu Tropical Bay has a stunning white sand beachside perfect for a picturesque destination wedding. 
This luxurious Riu Hotel resort offers a few extra amenities that will give you even more bang for your buck. With six gourmet restaurants, including Japanese, Italian, Steakhouse, and Fusion, you and your guests will surely have satisfied your Caribbean cravings!
And with wedding packages ranging from $1,499 to $7,999, Riu Tropical Bay makes good on its promise to provide affordability without compromising luxury!
2023 is coming before we know it, and Riu Palace Tropical Bay is one of our last few available resorts! Book your dream 2023 destination wedding while the getting is good!
Resort Features:
24/7 room service

3 Pool

6 Bars

5 Restaurants

Free WiFi throughout hotel

Free gym 

Wellness center "Renova" with a variety of beauty treatments, massages, etc.
Wedding Date Availability Riu Palace Tropical Bay
Book Your Dream 2023 Destination Wedding Before It's Too Late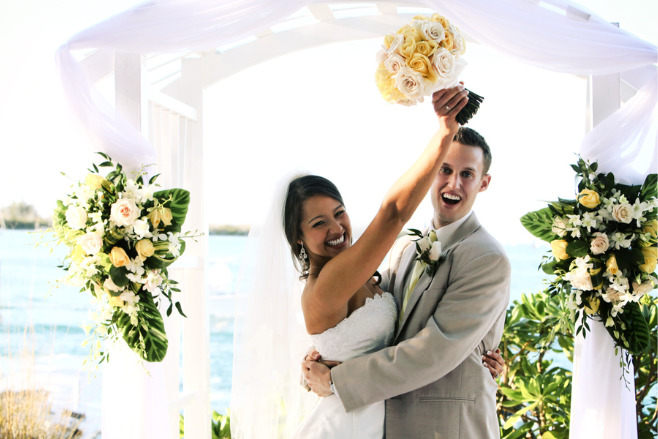 Destify and our couples are already looking ahead to 2024 for dream destination weddings.
Lucky for you, we've outlined 5 resorts available for 2023 destination weddings.
But trust us, these remaining slots are filling up quickly. We're simplifying the destination wedding process and booking these remaining properties as we speak!
Make your dreams a reality and talk to one of our wedding experts today!